Brilliant that breastfeeding rates in Scotland are increasing.

But in my view, 53% of 2 week old babies being breastfed is NOT ENOUGH.

- Almost two thirds (65%) of babies born in Scotland in 2018/19 were breastfed for at least some time after their birth.
- More than half (53%) of babies were being breastfed at 10-14 days of age in 2018/19. This has increased from 44% in 2002/03.

------------------------------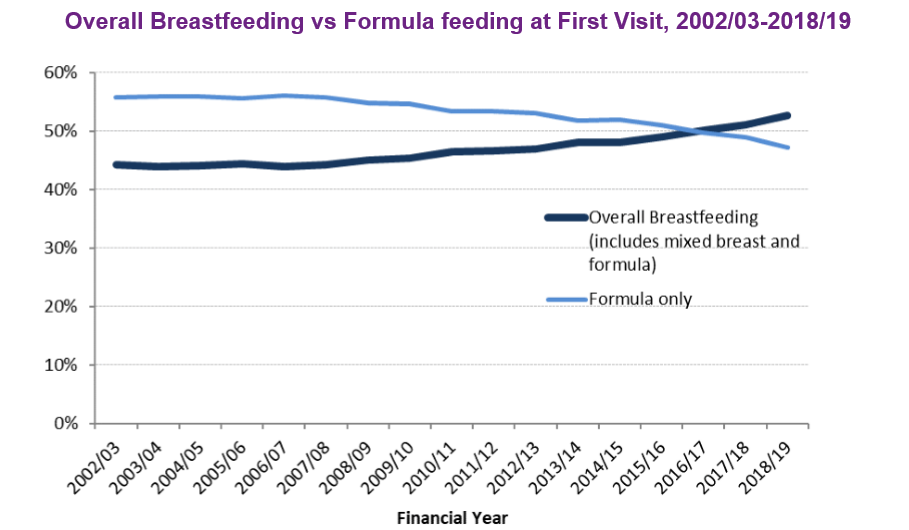 -----------------------

These statistics show MUCH MORE funding is needed for one-to-one dedicated support to help new mums wanting to breastfeed - especially as breastfeeding makes such a difference to the infant microbiome and to a child's lifelong health.

I would love to see more funding for more lactation consultants (IBCLCs), more lactation counselors (CLCs), more breastfeeding professionals, much more funding for peer-to-peer support and much more training about breastfeeding for all other health professionals.

In my view, much more information about the science of breastfeeding needs to be given to expectant parents before birth, including the difference exclusive breastfeeding makes to the infant microbiome and for lifelong infant health.

Again, in my view, more health and medical professionals need to be able to recognise and help resolve complications with breastfeeding by referring parents to lactation consultants or other qualified lactation professionals - those complications could include tongue or lip ties or latching problems.

And we need a new approach to infant formula marketing and messaging.


What do you think? How do we increase breastfeeding rates?

Here's a link to the full report: