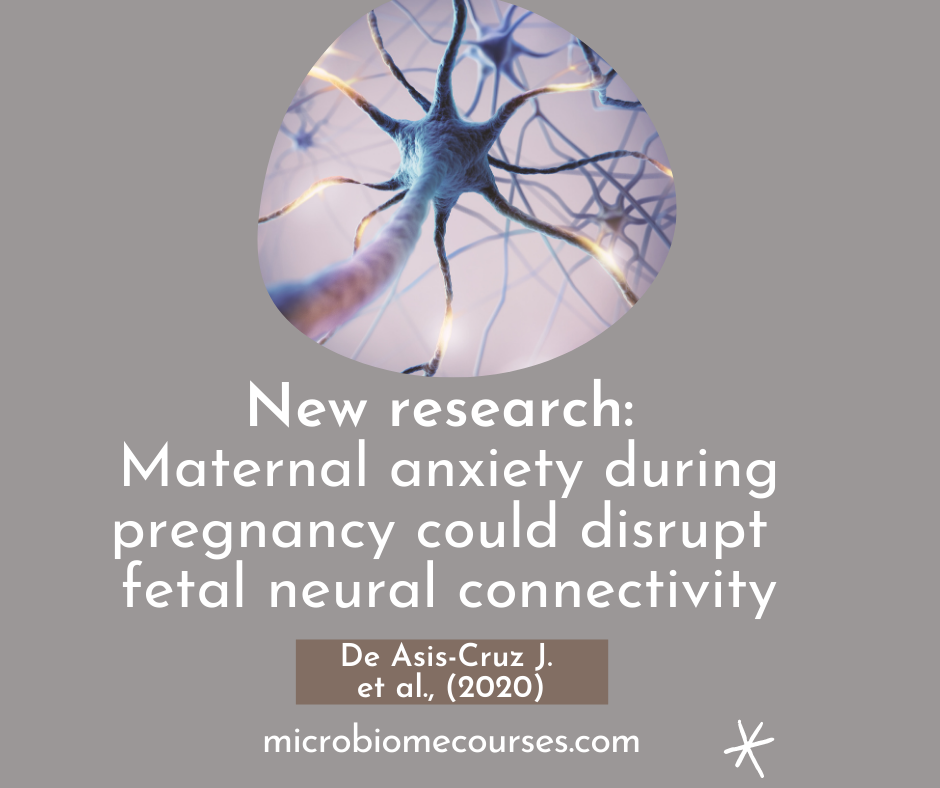 New research finds if an expectant mother experiences high levels of anxiety, stress or depression during pregnancy, this could affect brain development of her baby, and could disturb fetal brain function connectivity.
This research shows why we need to do all we can to protect and support the mental health of all expectant parents - for the long-term health of both mother and child.
The researchers enrolled 50 healthy low-risk pregnant women at 24-39 weeks' gestation from the Washington DC area.

Levels of stress, anxiety and depression were assessed using the Perceived Stress Scale, Spielberger State Anxiety Inventory and the Edinburgh Postnatal Depression Scale.

The scientists used a technique called resting-state functional magnetic resonance imaging (rs-fMRI) to scan the brains of the babies in the womb. Whole-brain connectivity was measured from 100 functionally defined regions of interest.

The results
According to the paper by De Asis-Cruz et al., JAMA Open Network (2020):
"Interhemispheric connections, such as those involving the parietofrontal and occipital association cortices, were associated with reduced maternal prenatal anxiety, and those between the brainstem and sensorimotor areas were associated with higher anxiety scores."
And the conclustion?

According to the paper abstract: "In this cohort study, an association was found between prenatal maternal anxiety and disturbances in fetal brain functional connectivity, suggesting altered fetal programming . Early onset of functional deviations suggests the need for more widespread screening of pregnant women for symptoms of anxiety."

Whether these effects linger or are influenced by postnatal care needs further research.

According to Dr De Asis Cruz, one of the researchers involved in the study from the Children's National Hospital was quoted in the easy-to-understand article in Kindred Media:

"These findings are pretty much in keeping with previous studies that show disturbances in connections reported in the years and decades after birth of children born to women with anxiety.....That suggests a form of altered fetal programming, where brain networks are changed by this elevated anxiety even before babies are born."

***

Article and Science reference

Easy-to-understand article in Kindred Media: https://www.kindredmedia.org/2020/12/maternal-anxi...

Science reference: De Asis-Cruz J, Krishnamurthy D, Zhao L, et al. Association of Prenatal Maternal Anxiety With Fetal Regional Brain Connectivity. JAMA Netw Open. 2020;3(12):e2022349. doi:10.1001/jamanetworkopen.2020.22349 https://jamanetwork.com/journals/jamanetworkopen/f...

***
Social media
I would love to connect with you via social media.
FACEBOOK (please join us!): https://www.facebook.com/groups/473121803401844/
INSTAGRAM (please show some love!): https://www.instagram.com/microbiomecourses/
PINTEREST (please save the pin!): https://www.pinterest.co.uk/MicrobiomeCourses/


***
Want to know more?
Join our FREE one hour mini-course on the infant microbiome.
Approved for 1 L-CERP (IBLCE) & 1 CPD HOUR (ACM)
Immediate access and go-at-your-own pace.
Learn from 7 professors about why vaginal birth and breast milk are so critical to the infant immune system.
Link to enroll: >>> https://microbirth.teachable.com/p/specialinfantmicrobiome1/