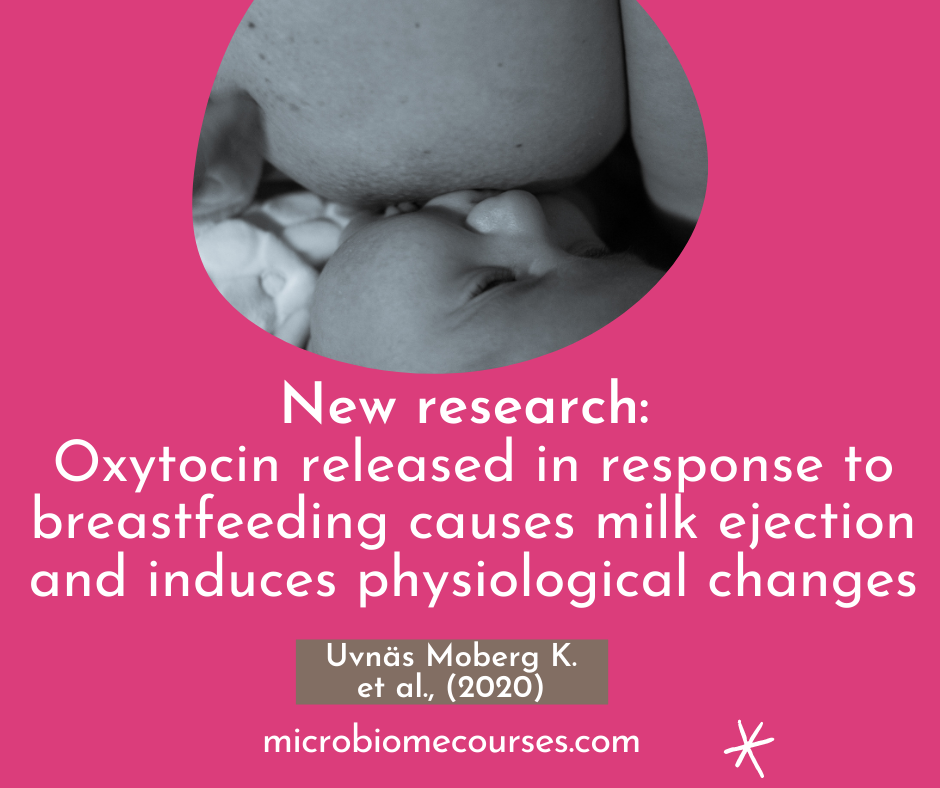 I love this new systematic review on how the hormone oxytocin affects breastfeeding! The research was by Dr Kerstin Uvnäs Moberg and colleagues who looked at 29 papers including 601 women.
And it includes a wonderful summary of the complex and beautiful interplay between oxytocin, stress levels and breastfeeding.

"Oxytocin is released in response to breastfeeding to cause milk ejection, and to induce physiological changes to promote milk production and psychological adaptations to facilitate motherhood. Stress and medical interventions during birth may influence these effects and thereby adversely affect the initiation of breastfeeding."

The results

Quoting from from the paper extract by Uvnäs Moberg K et al., PLoS One. 2020

Breastfeeding induced an immediate and short lasting (20 minutes) release of oxytocin. The release was pulsatile early postpartum (5 pulses/10 minutes) and coalesced into a more protracted rise as lactation proceeded.

Oxytocin levels were higher in multiparous versus primiparous women.

The number of oxytocin pulses during early breastfeeding was associated with greater milk yield and longer duration of lactation and was reduced by stress.

Breastfeeding-induced oxytocin release was associated with elevated prolactin levels; lowered ACTH and cortisol (stress hormones) and somatostatin (a gastrointestinal hormone) levels; enhanced sociability; and reduced anxiety, suggesting that oxytocin induces physiological and psychological adaptations in the mother.

Mechanical breast pumping, but not bottle-feeding was associated with oxytocin and prolactin release and decreased stress levels.

Emergency caesarean section reduced oxytocin and prolactin release in response to breastfeeding and also maternal mental adaptations.

Epidural analgesia reduced prolactin and mental adaptation, whereas infusions of synthetic oxytocin increased prolactin and mental adaptation.

Oxytocin infusion also restored negative effects induced by caesarean section and epidural analgesia.
***

Science reference:

Uvnäs Moberg K, Ekström-Bergström A, Buckley S, et al. Maternal plasma levels of oxytocin during breastfeeding-A systematic review. PLoS One. 2020;15(8):e0235806. Published 2020 Aug 5. doi:10.1371/journal.pone.0235806 https://www.ncbi.nlm.nih.gov/pmc/articles/PMC74060...

***

Social media
I would love to connect with you via social media.
FACEBOOK (please join us!): https://www.facebook.com/groups/473121803401844/
INSTAGRAM (please show some love!): https://www.instagram.com/microbiomecourses/
PINTEREST (please save the pin!): https://www.pinterest.co.uk/MicrobiomeCourses/


***
Want to know more?
Join our FREE one hour mini-course on the infant microbiome.
Approved for 1 L-CERP (IBLCE) & 1 CPD HOUR (ACM)
Immediate access and go-at-your-own pace.
Learn from 7 professors about why vaginal birth and breast milk are so critical to the infant immune system.
Link to enroll: >>> https://microbirth.teachable.com/p/specialinfantmicrobiome1/