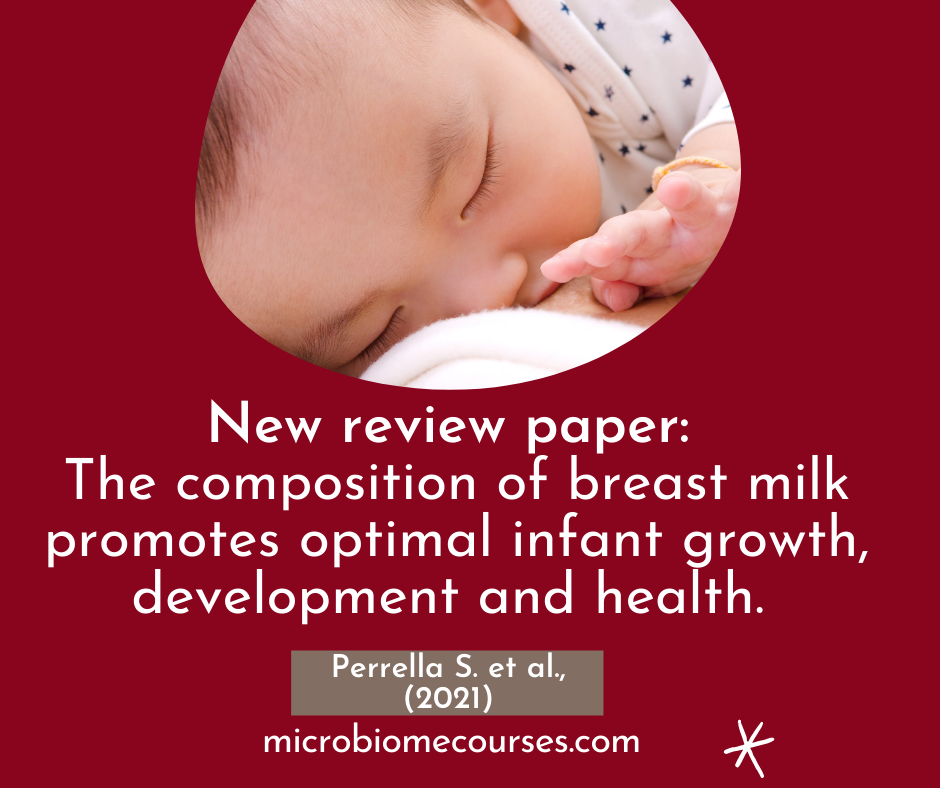 I do love a review paper that illustrates and summarises the power and beauty of human breast milk!
A new review paper from the University of Western Australia looks at the complex components of breast milk including the diverse range of nutrients, immune protection factors, hormones, microbes and metabolites.
A strong point made in the review is the extent to which human milk is personalised to each particular mother-baby dyad.

According to the paper by Perrella, S et al., (2021), many components of human milk remain stable over the course of lactation, and are similar between women.

But many other components vary over time and change in response to the mother's health, the baby's health, the mother's diet and geographical location.
As the review paper shows, all these complex components of breast milk work beautifully together to "stimulate and support the infant's immature immune system, while enhancing appropriate development, growth and body composition. "

The take-home message:

Every parent needs to know that breast milk promotes optimal infant growth, development and health. Simple as!
***

Science reference:
Perrella, S., Gridneva, Z., Lai, C. T., Stinson, L., George, A., Bilston-John, S., & Geddes, D. (2021). Human milk composition promotes optimal infant growth, development and health. Seminars in Perinatology, [151380]. https://doi.org/10.1016/j.semperi.2020.151380

***
***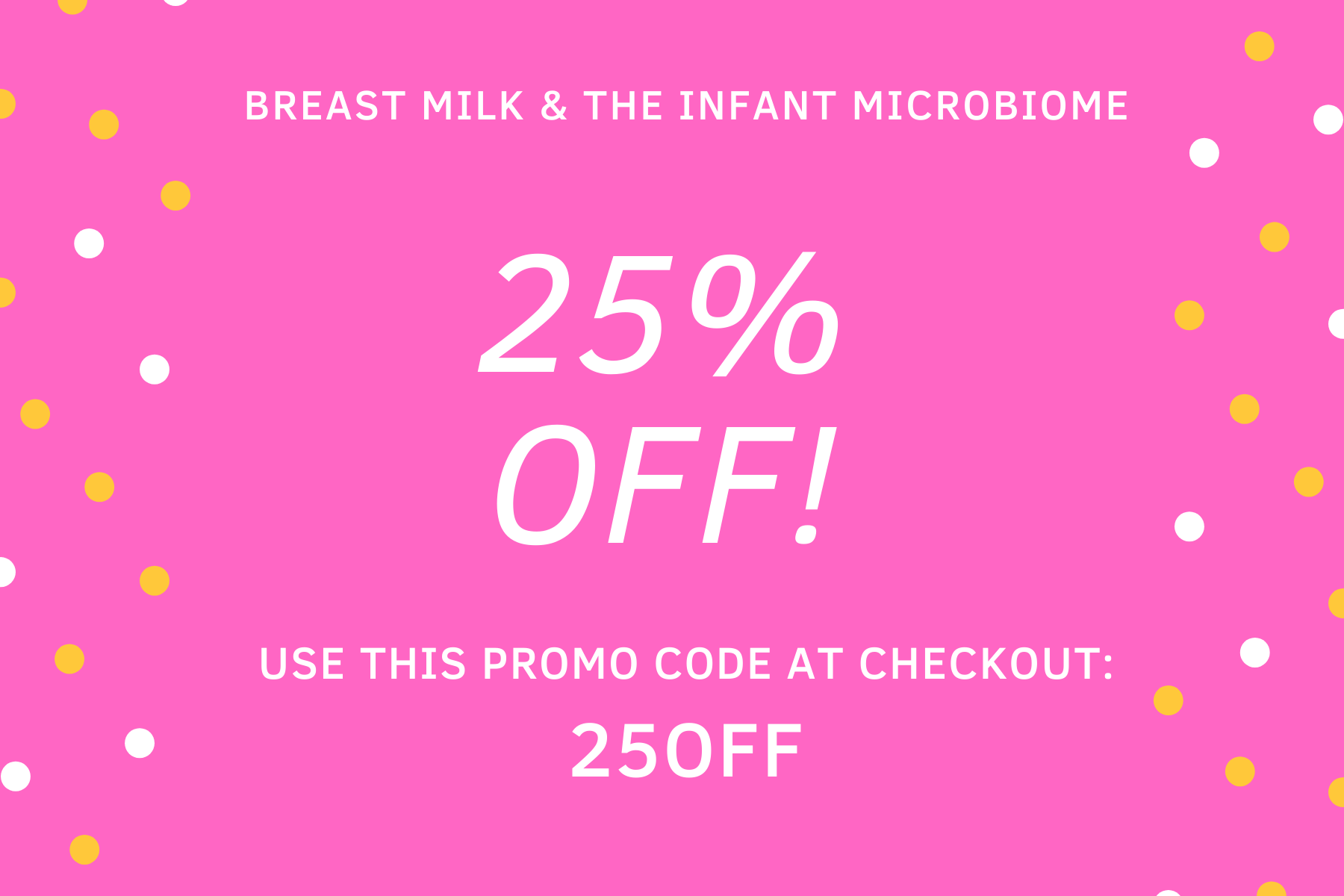 Interested in the science of breast milk?

Check out our full-length BREAST MILK course.

Save 25% if you use this PROMO CODE at checkout: 25OFF

https://microbirth.teachable.com/p/breastmilk1

***

BREAST MILK AND THE INFANT MICROBIOME - FULL COURSE
If you want to learn more about breast milk and the the infant immune system, do consider the full-length 17 hour course featuring 7 top lactation scientists!
Learn about the components of breast milk, an explanation of human milk oligosaccharides and how they impact the infant immune system, other body systems including possibly brain development. Plus the course explores breast milk, expressed milk, donor milk and the impact of infant formula.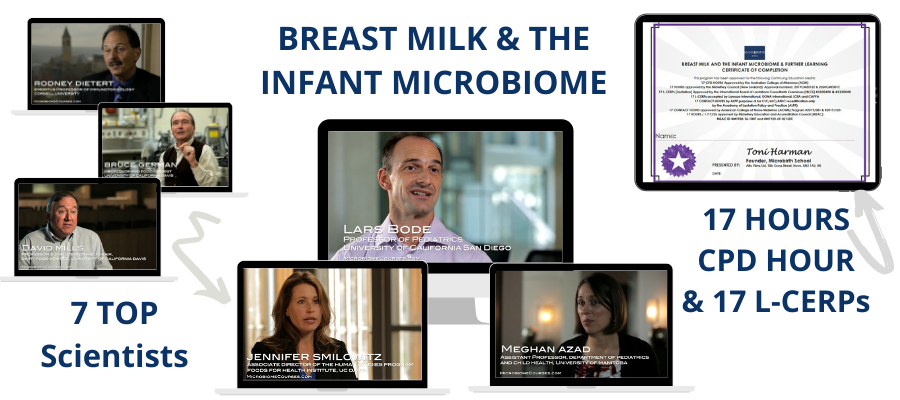 And earn 17 L-CERPs (IBLCE), 17 CONTACT HOURS (ACNM), 17 HOURS (ACM), 17 HOURS (MEAC).

17 L-CERPs

(IBLCE) also accepted by ALPP

Also accepted as 17 CONTACT HOURS by Lamaze International, CAPPA, ICEA & DONA Internationals

17 CONTACT HOURS (ACNM) - accepted by ACNM

Also accepted as 17 NURSING CNEs by many state boards

17 HOURS (MEAC)
17 NURSING CNEs (Midwifery Council of New Zealand)

17 CPD HOURS (ACM)

Also accepted for 17 HOURS CPD by NMC
You can buy the course for 25% off with this PROMO CODE used at checkout: 25OFF https://microbirth.teachable.com/p/breastmilk1
***

What do other people think of the course?
Gulara, Psychologist, UAE, Dubai
I participate in many webinars and courses, but this course is simply incredible.
Ronee - CLC, parenting coach, Pennsylvania, USA
I loved this course! I definitely have an affection towards microbes now, and I'm always sharing my findings with others! Definitely would recommend!
Diana - Childbirth educator, doula & breastfeeding educator, UK

This course was amazing. I learned a lot more about the microbiome than I already did. I find the human microbiome totally fascinating and this just added more to my knowledge. Loved it!
Angelia - Lactation Consultant, Sacramento, Ca., USA
This course is very informative and should be a required course for all healthcare workers who care for new moms and babies!
Debra - IBCLC with Midwifery, Cambridge, UK
Every health professional should know this information....it will guide and empower you in your work to better improve maternal and infant health under your watch
Ramona - Lamaze Childbirth Educator and CLC, Florida Panhandle
This course will have you SO enthusiastic about the ability of women to make human milk and in the benefits of human milk being SO much more than I ever knew!
Cindy -BSN, RNC-MNN, IBCLC, Pittsburgh, PA United States
Being an RN/IBCLC this information will impact my education for mother-infant dyads. Being to give them the education in order to make a well informed choice will speak volumes!
Marcia - RN, Lactation Consultant, Massachusetts, USA
Breast Milk and the Infant Microbiome is a a well organized and informative presentation on the properties if human milk specifically HMOs. I have been a lactation consultant and maternal child nurse for many years, this course expanded my knowledge base and will improve my practice and staff education repertoire. I would recommend this course to lactation consultants and health care providers supporting breastfeeding families.
You can save 25% off the full price if you use this PROMO CODE at checkout: 25OFF https://microbirth.teachable.com/p/breastmilk1