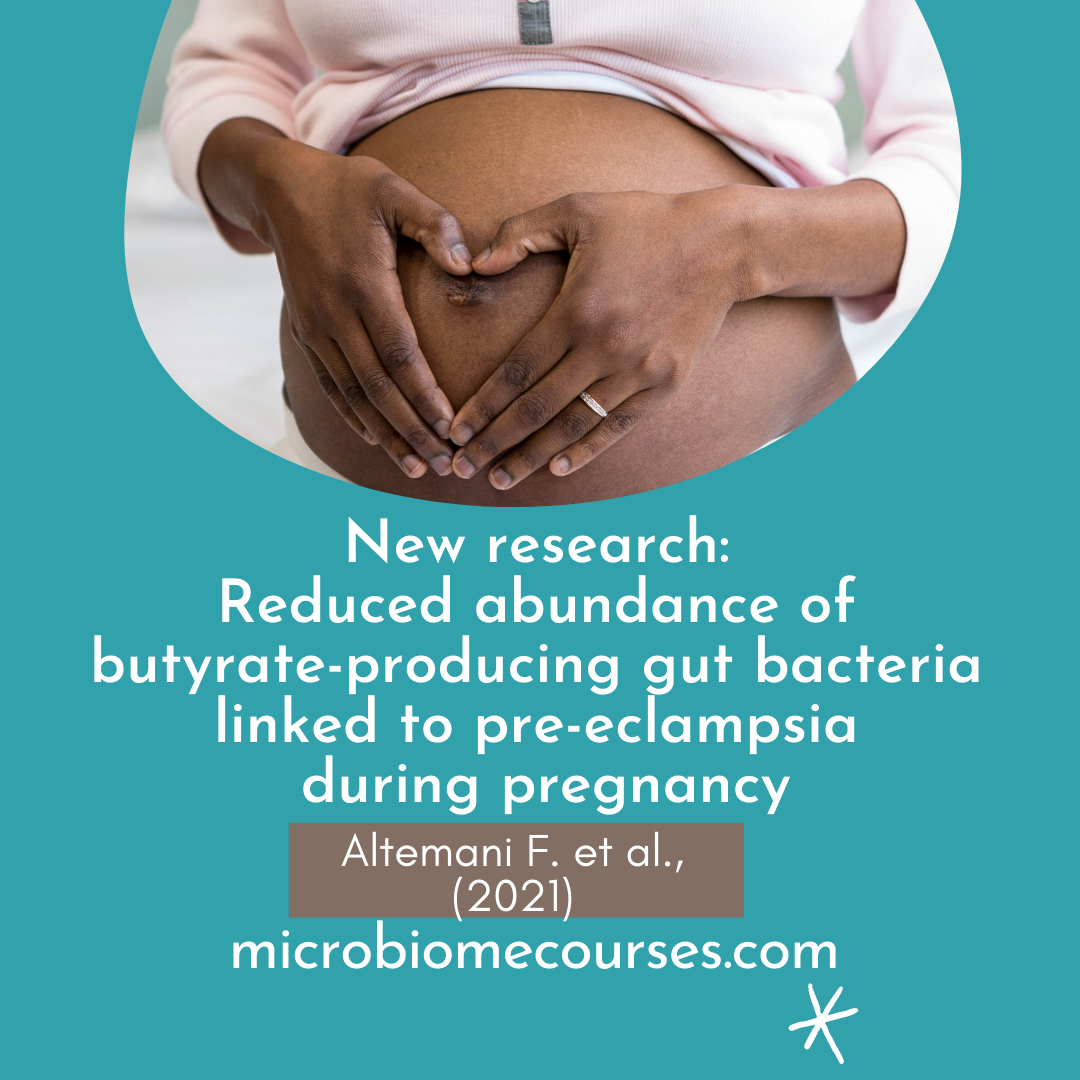 New research reveals links between the gut microbiome and pre-eclampsia during pregnancy.

.

About pre-eclampsia.

.

Pre-eclampsia is a pregnancy complication that can occur (usually) during the second half of pregnancy (from around 20 weeks).

.

It is characterised by the pregnant mother having high blood pressure (also known as hypertension), and also dysfunction of several organs.

.
According to the NHS website, early signs of pre-eclampsia include having high blood presssure (also known as hypertension) and having protein in the urine (proteinuria). Further signs might include swelling of the feet, ankles, face and hands by fluid retention, severe headache, vision problems and a pain just below the ribs.
***
The study:

In this new study by Altemani F. et al., (2021), researchers looked at the composition of the gut microbiome at 28 weeks' gestation in women that went on to develop late-onset pre-eclampsia (pre-eclampsia that developed after 34 weeks' gestation).
Fecal samples were obtained from 213 pregnant women enrolled in the SPRING cohort (Study of Probiotics In Gestational Diabetes).
These samples were then analyzed.
About "butyrate-producing bacteria":
The study found women who develop pre-eclampsia during their pregnancy had lower abundance of a particular type of butyrate-producing bacteria (Coprococcus) in their gut microbiome.
Coprococcus is a type of bacteria that produces butyrate.
Butyrate is an important short-chain fatty acid (SCFA) that can be beneficial to human health and wellbeing.

Butyrate is produced by bacteria fermenting dietary fibers in the gut.
Detailed findings:

In this study, the abundance of the butyrate-producing Coprococcus genus significantly decreased in those pregnant women who developed late-onset (>34 weeks' gestation) pre-eclampsia.
Butyrate was found to be lower in those with high blood pressure (hypertension).
Prior to late-onset pre-eclampsia, the gut microbiome was found to be already altered.
The enzymes that encode

the production of butyrate were found to be lower in the gut microbiome.
Butyrate levels circulating in the pregnant woman were found to be lower before overt signs of pre-eclampsia
The conclusion (quoting from the abstract):

"This study suggests that a reduction in the abundance of butyrate-producing bacteria, and Coprococcus spp. in particular, may contribute to an increased risk of developing preeclampsia in pregnant women."
***
Want to help?

Together, we can make a difference to the health of the next generation.

It's simple.

Share our blog-posts on social media, so health professionals and parents become more aware of the science.
1. Please share this blog far and wide: https://bit.ly/3pmNmLc

2. Every Monday, we send out a weekly digest to everyone enrolled in this School. If you haven't already done so, do enroll to receive the weekly digest. It's free! https://bit.ly/3cYrQK8

3. Recommend our FREE mini-course to your friends - so they can learn about the infant microbiome (and they can earn a free L-CERP and CPD HOUR!): https://bit.ly/3rEmyHL

***
Science reference:
Altemani F, Barrett H, Gomez Arango L, Josh P, Mcintyre H, Callaway L, Morrison M, Tyson G, Nitert M, Pregnant Women Who Develop Preeclampsia Have Lower Abundance of the Butyrate-producer Coprococcus in their Gut Microbiota, Pregnancy Hypertension, 23, 26th January 2021, doi:10.1016/j.preghy.2021.01.002 https://www.sciencedirect.com/science/article/abs/...


***

Social media:
I would love to connect with you via social media.
FACEBOOK (please join us!): https://www.facebook.com/groups/473121803401844/
INSTAGRAM (please show some love!): https://www.instagram.com/microbiomecourses/
PINTEREST (please save the pin!): https://www.pinterest.co.uk/MicrobiomeCourses/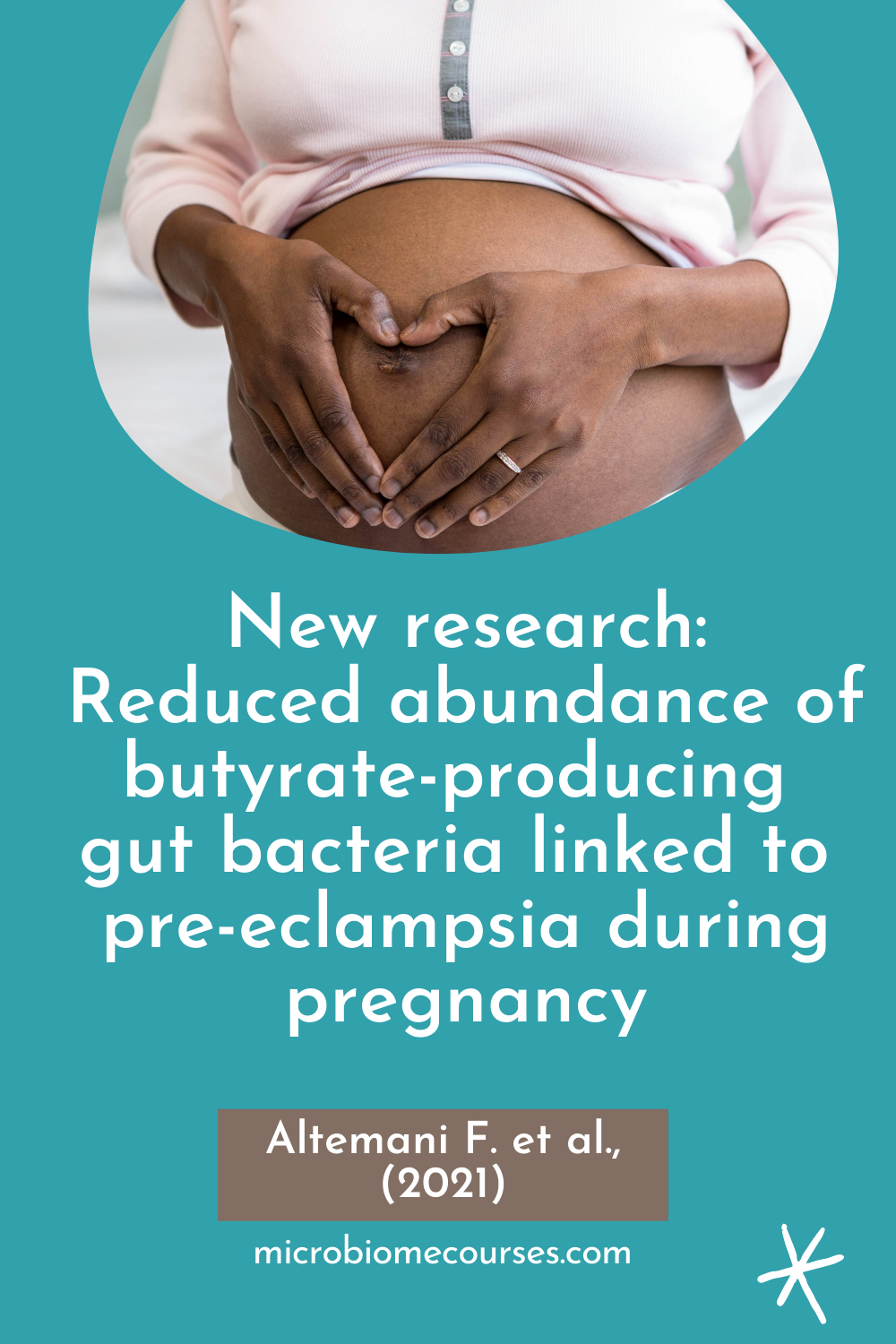 ***
Want to know more?
Join our FREE one hour mini-course on the infant microbiome.
Approved for 1 L-CERP (IBLCE) & 1 CPD HOUR (ACM)
Immediate access and go-at-your-own pace.
Learn from 7 professors about why vaginal birth and breast milk are so critical to the infant immune system.
Link to enroll: >>> https://microbirth.teachable.com/p/specialinfantmi...