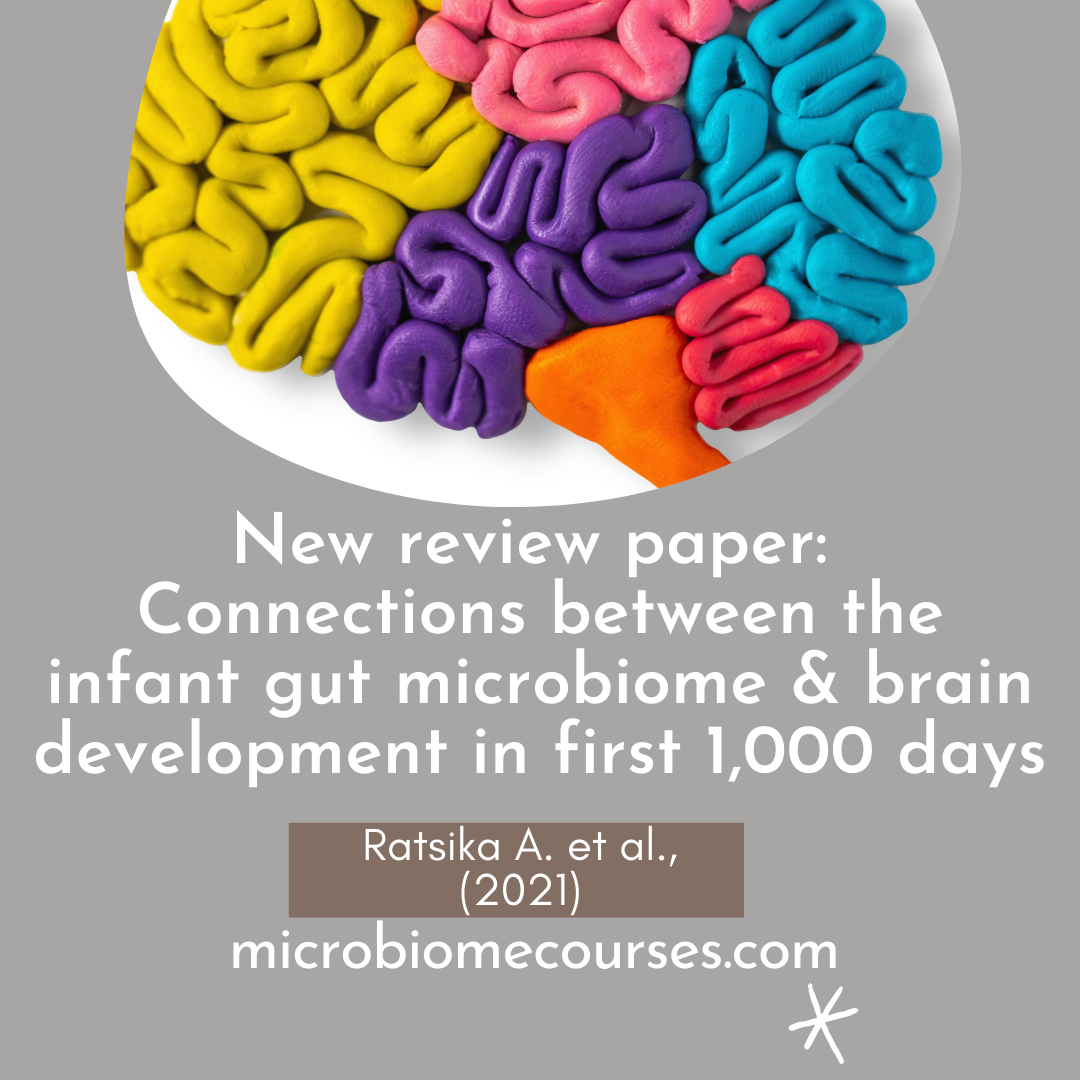 This paper sums up why I am so passionate about spreading awareness about the importance of the infant microbiome.

This is a really fascinating new review paper looking at factors that influence the development of the infant gut microbiome and also, affect brain development in the first 1,000 days - from preconception to age 3.
The paper by Anna Ratsika and others including Professor John Cryan (from University College Cork) suggests the microbes in the infant gut could help programme the infant immune system and the central nervous system.
The paper makes the point that there are critical windows of development which potentially have implications for the child's health for the rest of his or her life.

Crucially, the first 1,000 days is a really critical time on the gut-brain connection - with potential long-lasting effects.

***

Early life factors

Early life factors that could affect infant brain development and the development of the infant gut microbiome from preconception to the first 3 years of life include:
Genetics

Maternal mental health

Maternal nutrition (during preconception and during pregnancy)

Mode of birth (whether born by C-section or vaginally)

Exposure to antibiotics

Environment (infections, pollution etc)

Mode of feeding (breastfeeding, donor milk or infant formula)

Introduction of solid food

In particular, the paper makes the important point that early life nutrition (especially breast milk) - can play a pivotal role in perinatal programming and also, on the "modulation" of the gut microbiome from birth for the whole of a person's life.

To quote from the abstract:

"Among all these factors, early life nutrition plays a pivotal role in perinatal programming and in the modulation of offspring microbiota from birth throughout lifespan."

***

One sentence stood out:

This sentence from the paper really stood out to me.

"events that disturb normal microbial seeding perinatally might leave signatures in the first steps of life, and it is therefore hypothesized that early life microbial perturbations possibly prime developmental processes which tip the balance between health and disease. "

This suggests that if the "normal" microbial seeding and feeding of the infant gut is distubed or altered during those first 1,000 days, this could potentially affect key developmental processes.

This could tip the balance between a child living a healthy life vs a future life with disease.

***

My take-home message:

Hopefully you share my desire so that as many parents and health professionals as possible become aware of this science, so parents-to-be can make fully informed choices to help protect their gut microbiome before and during pregnancy.

And for all expectant parents to be supported in their birth and infant feeding choices, as these are choices that can affect the lifelong health of their child.

***

Want to help?

Together, we can make a difference to the health of the next generation.

It's simple.

Share our blog-posts on social media, so health professionals and parents become more aware of the science.
1. Please share this blog far and wide: https://bit.ly/3cW7VeL

2. Every Monday, we send out a weekly digest to everyone enrolled in this School. If you haven't already done so, do enroll to receive the weekly digest. It's free! https://bit.ly/3cYrQK8

3. Recommend our FREE mini-course to your friends - so they can learn about the infant microbiome (and they can earn a free L-CERP and CPD HOUR!): https://bit.ly/3rEmyHL

***
Science reference: Ratsika A, Codagnone MC, O'Mahony S, Stanton C, Cryan JF. Priming for Life: Early Life Nutrition and the Microbiota-Gut-Brain Axis. Nutrients. 2021 Jan 28;13(2):423. doi: 10.3390/nu13020423. PMID: 33525617.

https://www.mdpi.com/2072-6643/13/2/423/htm

https://pubmed.ncbi.nlm.nih.gov/33525617/

***

Social media:
I would love to connect with you via social media.
FACEBOOK (please join us!): https://www.facebook.com/groups/473121803401844/
INSTAGRAM (please show some love!): https://www.instagram.com/microbiomecourses/
PINTEREST (please save the pin!): https://www.pinterest.co.uk/MicrobiomeCourses/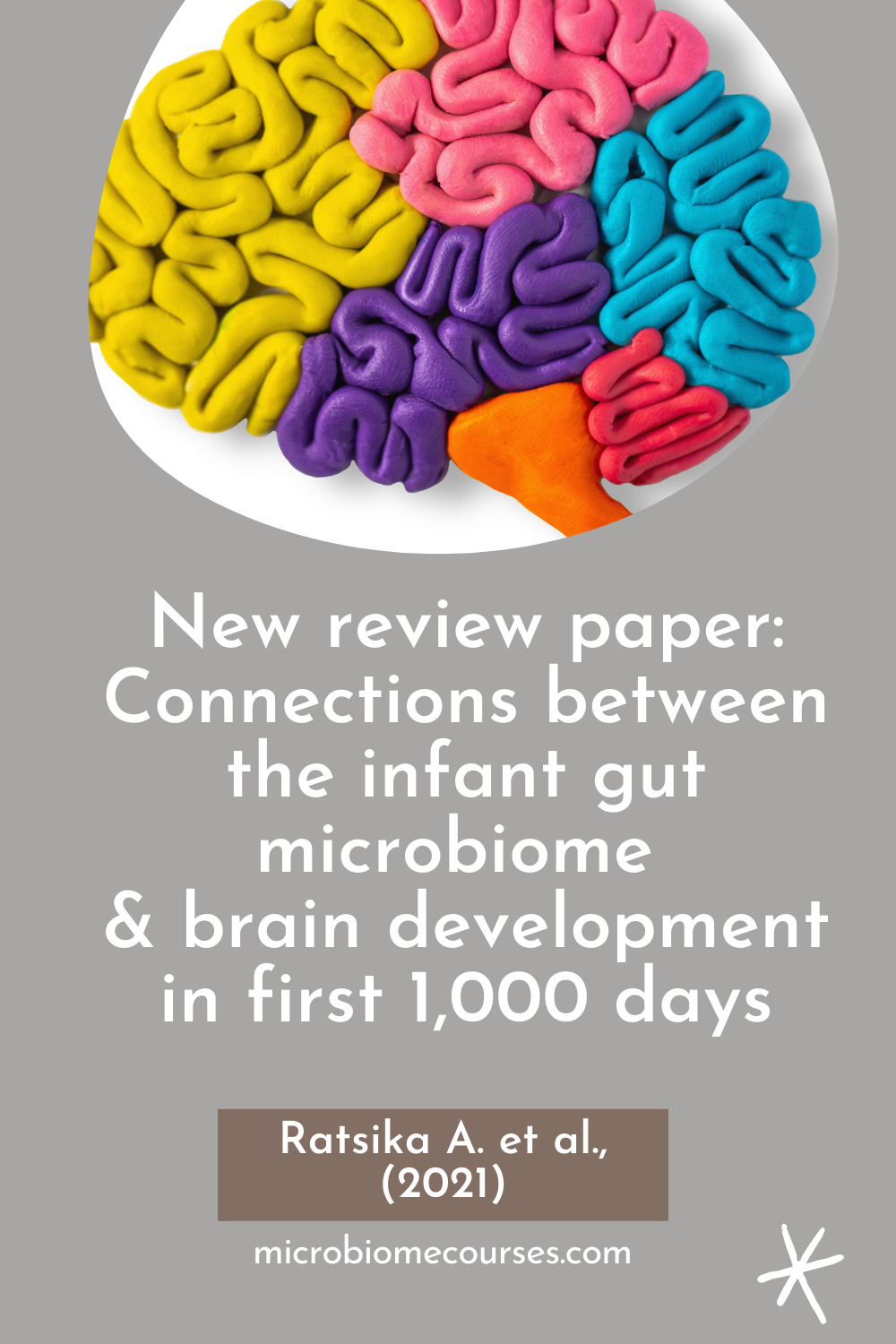 ***
Want to know more?
Join our FREE one hour mini-course on the infant microbiome.
Approved for 1 L-CERP (IBLCE) & 1 CPD HOUR (ACM)
Immediate access and go-at-your-own pace.
Learn from 7 professors about why vaginal birth and breast milk are so critical to the infant immune system.
Link to enroll: >>> https://microbirth.teachable.com/p/specialinfantmicrobiome1/