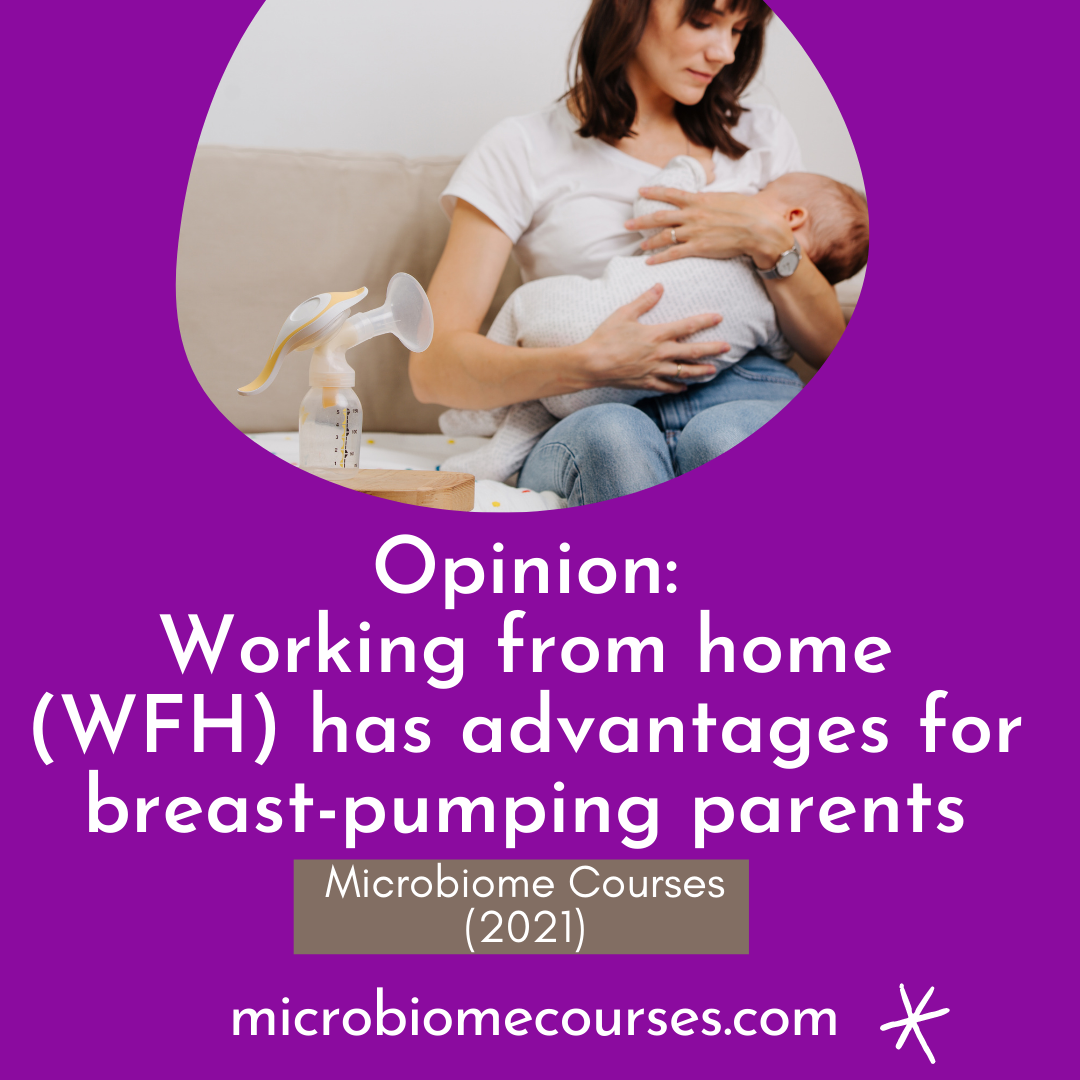 This powerful op-ed article by Jessica Powell in the New York Times highlights a silver lining for many new parents working from home.

By working from home (#WFH) = more flexible breast-pumping = more time with babies.
Although the article doesn't mention the infant microbiome - science shows (as explained within our Breast Milk course) that a biological mother's own milk provides NOT ONLY the best nutrition for a baby, but it is also the best source of bioactive components that are so important for the baby's developing gut microbiome, for the baby's developing immune system and potentially even for brain development.
As each mother's milk is personalised to her own baby, if breastfeeding isn't possible, breast-pumping enables working mums to continue to give their child their own breast milk.

This helps ensure the baby has the best possible start in life.
***
About the op-ed article

Jessica Powell is a contributing opinion writer, a former vice president at Google, and a mother of three. She is the author of "The Big Disruption: A Totally Fictional but Essentially True Silicon Valley Story."

In the op-ed piece, Ms Powell argues that working from home during the COVID-19 pandemic has meant that new parents are spared some of challenges of breast pumping at work.

The article describes this "near-secret activity" could mean a private phone call in the lactation room, or pumping on the freeway, or on a plane covered with a blanket, whilst strapped to a pumping machine.
As the article states, some mothers are still choosing to breast-pump according to their own home and family schedule. But the big upside of working from home is that many new parents are enjoying lots more time with their babies.
Obviously this upside might not be the case for all new parents, and every family situation is different, but the opinion piece makes a strong case to change parental leave policies in the US, and also the need to change attitudes towards breast-pumping.
I love the end thought:

"Despite our complaints about our breast pumps — their ugliness, rude sounds and required cleaning — it's not actually our pumps we hate. It's what they symbolize: being forced back into the office before our bodies and babies may be ready for it, and for having to jump hurdles to engage in an activity that we are told is vital to our baby's nutrition, and yet is less accommodated than smoking in many American workplaces. "

Well said.
Are you breast-pumping right now? What are the challenges you are facing?
What changes would you like to see in parental leave policies?

***
Linkt to New York Times article: >>> https://nyti.ms/2MUlCjS


***
Want to know more about the power of breast milk?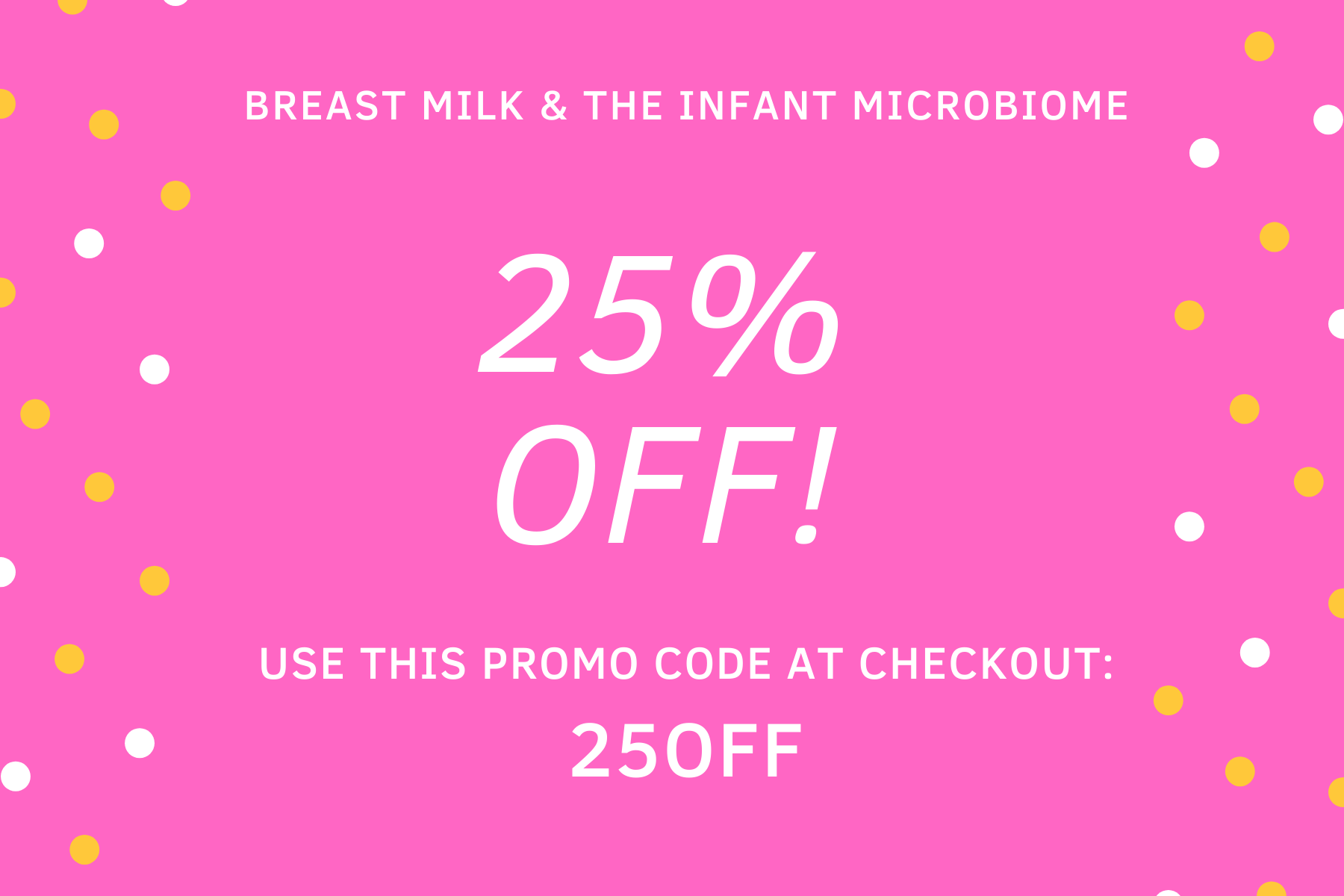 Save 25% off the full course if you use this PROMO CODE at checkout: 25OFF

https://microbirth.teachable.com/p/breastmilk1

***

BREAST MILK AND THE INFANT MICROBIOME - FULL COURSE
If you want to learn the difference between secretors and non-secretors, do consider the full-length course!
Learn from 7 top lactation scientists about the components of breast milk, an explanation of human milk oligosaccharides and how they impact the infant immune system, other body systems including possibly brain development. Plus the course explores breast milk, expressed milk, donor milk and the impact of infant formula.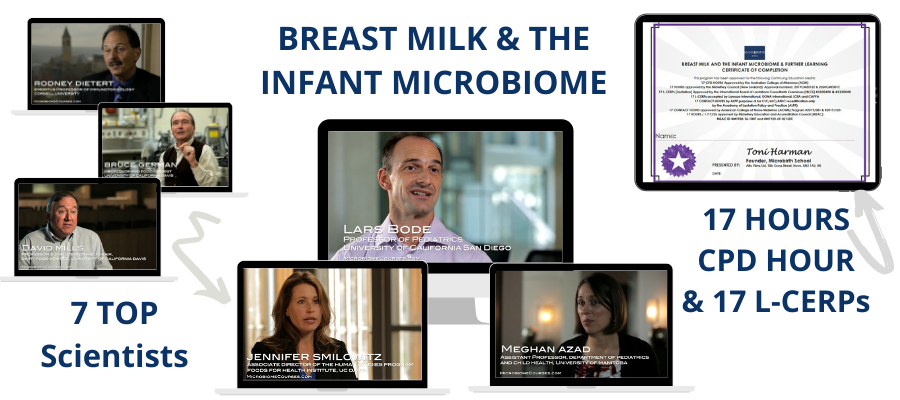 And earn 17 L-CERPs (IBLCE), 17 CONTACT HOURS (ACNM), 17 HOURS (ACM), 17 HOURS (MEAC).

17 L-CERPs (IBLCE) also accepted by ALPP

Also accepted as 17 CONTACT HOURS by Lamaze International, CAPPA, ICEA & DONA Internationals

17 CONTACT HOURS (ACNM) - accepted by ACNM

Also accepted as 17 NURSING CNEs by many state boards

17 HOURS (MEAC)
17 NURSING CNEs (Midwifery Council of New Zealand)

17 CPD HOURS (ACM)

Also accepted for 17 HOURS CPD by NMC
You can buy the course for 25% off with this PROMO CODE used at checkout: 25OFF https://microbirth.teachable.com/p/breastmilk1
***

What do other people think of the course?
Gulara, Psychologist, UAE, Dubai
I participate in many webinars and courses, but this course is simply incredible.
Ronee - CLC, parenting coach, Pennsylvania, USA
I loved this course! I definitely have an affection towards microbes now, and I'm always sharing my findings with others! Definitely would recommend!
Diana - Childbirth educator, doula & breastfeeding educator, UK

This course was amazing. I learned a lot more about the microbiome than I already did. I find the human microbiome totally fascinating and this just added more to my knowledge. Loved it!
Angelia - Lactation Consultant, Sacramento, Ca., USA
This course is very informative and should be a required course for all healthcare workers who care for new moms and babies!
Debra - IBCLC with Midwifery, Cambridge, UK
Every health professional should know this information....it will guide and empower you in your work to better improve maternal and infant health under your watch
Ramona - Lamaze Childbirth Educator and CLC, Florida Panhandle
This course will have you SO enthusiastic about the ability of women to make human milk and in the benefits of human milk being SO much more than I ever knew!
Cindy -BSN, RNC-MNN, IBCLC, Pittsburgh, PA United States
Being an RN/IBCLC this information will impact my education for mother-infant dyads. Being to give them the education in order to make a well informed choice will speak volumes!
Marcia - RN, Lactation Consultant, Massachusetts, USA
Breast Milk and the Infant Microbiome is a a well organized and informative presentation on the properties if human milk specifically HMOs. I have been a lactation consultant and maternal child nurse for many years, this course expanded my knowledge base and will improve my practice and staff education repertoire. I would recommend this course to lactation consultants and health care providers supporting breastfeeding families.
You can save 25% off the full price if you use this PROMO CODE at checkout: 25OFF https://microbirth.teachable.com/p/breastmilk1

***
Social media:
I would love to connect with you via social media.
FACEBOOK (please join us!): https://www.facebook.com/groups/473121803401844/
INSTAGRAM (please show some love!): https://www.instagram.com/microbiomecourses/
PINTEREST (please save the pin!): https://www.pinterest.co.uk/MicrobiomeCourses/