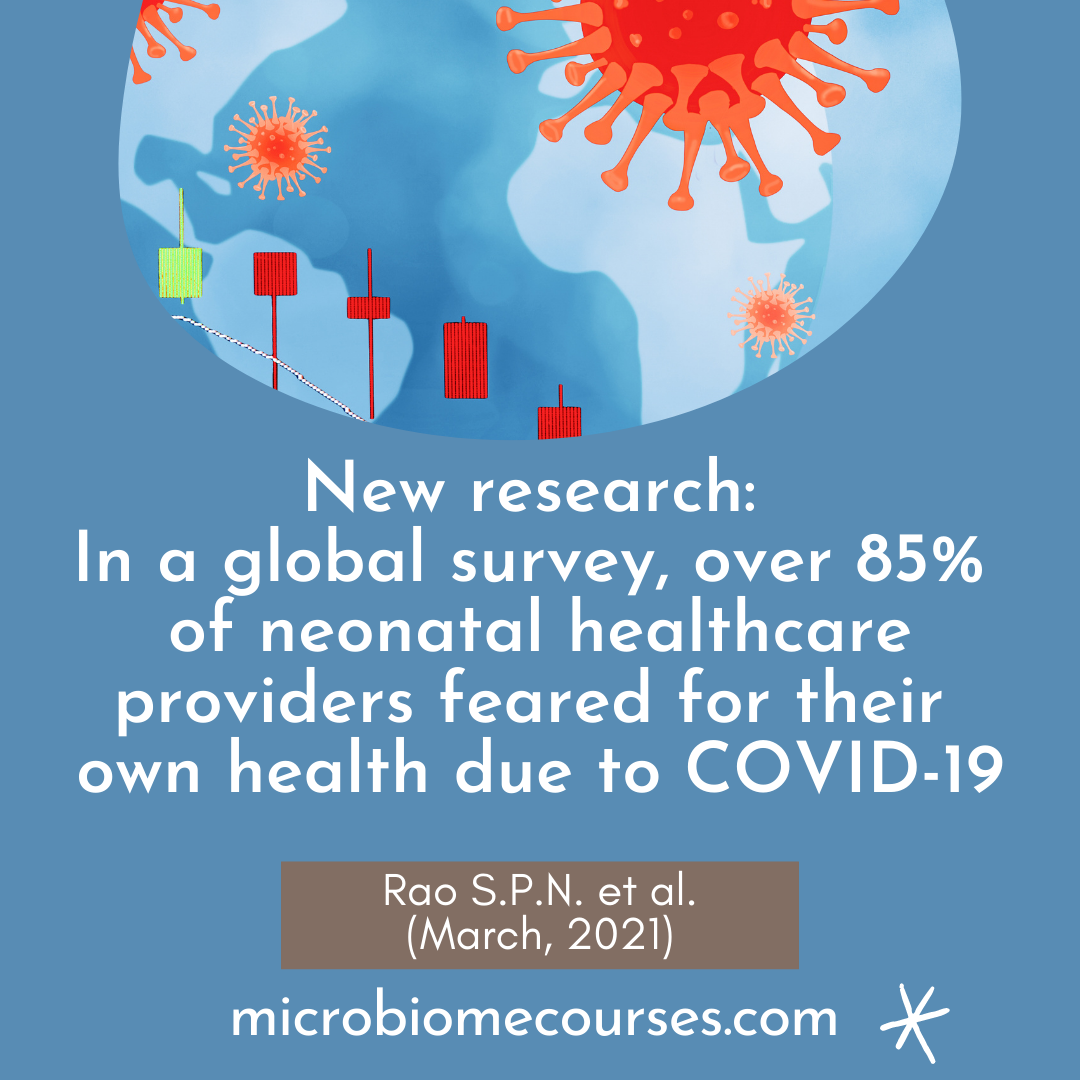 The COVID-19 pandemic has disrupted health systems worldwide. It has also taken a heavy toll on the health and wellbeing of maternity health professionals around the world.

In a global survey of 1120 neonatal healthcare providers, more than 85% of health personnel feared for their own health and 89% had increased stress from the COVID-19 pandemic.
The study was published in the British Medical Journal (BMJ) Global Health.

The study:
Rao S.P.N. et al. (March 2021) collected data from 1120 neonatal healthcare providers from 62 countries (mainly low and middle-income countries)
The responses included information on COVID-19 preparedness, effects on health personnel and on newborn care services including kangaroo mother care (KMC).

The results:
In terms of the impacy of COVID-!9 on health personnel:

Preparedness for COVID-19 was suboptimal in terms of guidelines and availability of personal protective equipment.

Around 1/3 reported routine testing of all pregnant women

13% had no testing capacity at all


More than 85% of health personnel feared for their own health

89% had increased stress.
In terms of the care of infants:
More than half reported that evidence-based interventions such as KMC were discontinued or discouraged.

Separation of the mother-baby dyad was reported for both COVID-positive mothers (50%) and those with unknown status (16%).

Follow-up care was disrupted primarily due to families' fear of visiting hospitals (~73%).

Conclusions:
To quote from the paper: "Newborn care providers are stressed and there is lack clarity and guidelines regarding care of small newborns during the pandemic. There is an urgent need to protect life-saving interventions, such as KMC, threatened by the pandemic, and to be ready to recover and build back better. "

If you are a neonatal healthcare provider, is this your experience too?

Did you feel more stressed? Or did you fear for your own health due to COVID-19?

***

Articles and research links:
Rao SPN, Minckas N, Medvedev MM, Gathara D, Y N P, Seifu Estifanos A, Silitonga AC, Jadaun AS, Adejuyigbe EA, Brotherton H, Arya S, Gera R, Ezeaka CV, Gai A, Gobezayehu AG, Dube Q, Kumar A, Naburi H, Chiume M, Tumukunde V, Medhanyie AA, Plange-Rhule G, Shabini J, Ohuma EO, Tadele H, W/Gebriel F, Hadgu A, Alamineh L, Mehta R, Molyneux E, Lawn JE; COVID-19 Small and Sick Newborn Care Collaborative Group. Small and sick newborn care during the COVID-19 pandemic: global survey and thematic analysis of healthcare providers' voices and experiences. BMJ Glob Health. 2021 Mar;6(3):e004347. doi: 10.1136/bmjgh-2020-004347. PMID: 33716220.
https://pubmed.ncbi.nlm.nih.gov/33716220/

***

Want to help?

Together, we can make a difference to the health of the next generation.

It's simple.

Share our blog-posts on social media, so health professionals and parents become more aware of the science.
1. Please share this blog far and wide! https://bit.ly/3w88NEp

2. Every Monday, we send out a weekly digest to everyone enrolled in this School. If you haven't already done so, do enroll to receive the weekly digest. It's free! https://bit.ly/3cYrQK8

3. Take our FREE mini-course and recommend it to your friends - to learn about the infant microbiome (and earn a free L-CERP and CPD HOUR!): https://bit.ly/3rEmyHL

***

Social media:
I would love to connect with you via social media.
FACEBOOK (please join us!): https://www.facebook.com/groups/473121803401844/
INSTAGRAM (please show some love!): https://www.instagram.com/microbiomecourses/
***
Want to know more?
Join our FREE one hour mini-course on the infant microbiome within our own microbiome academy, Microbiome Courses.
Approved for 1 L-CERP (IBLCE) & 1 CPD HOUR (ACM)
Immediate access and go-at-your-own pace.
Learn from 7 professors about why vaginal birth and breast milk are so critical to the infant immune system.
Link to enroll: >>> https://microbirth.teachable.com/p/specialinfantmicrobiome1/

***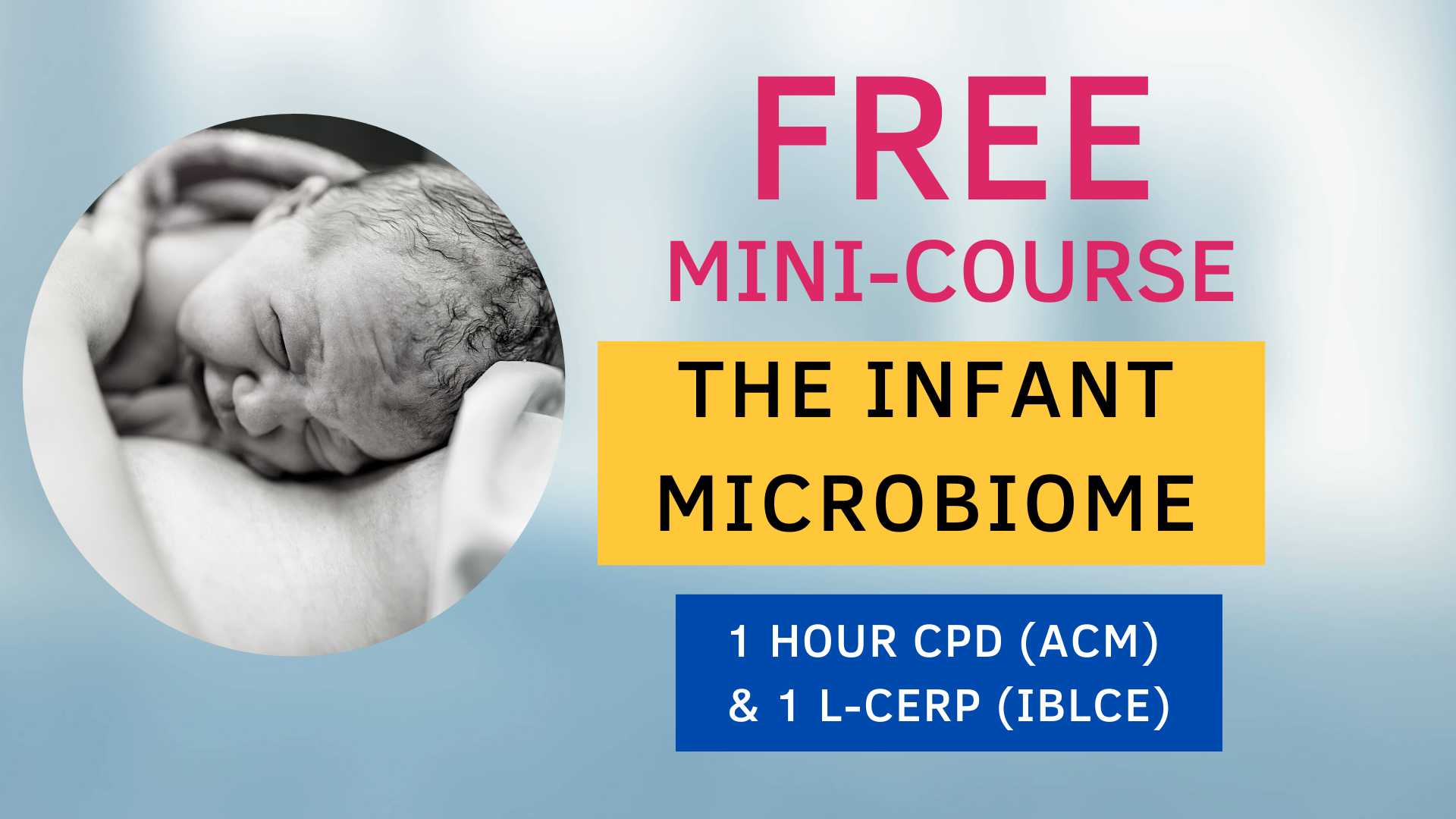 You can contact us via Microbirth website: https://microbirth.com/contact-us/

You can reach our school home page via any of these links:
Microbiome Courses: microbiomecourses.com

Microbiome Academy: microbiomeacademy.com

Microbirth School:
https://microbirth.teachable.com
***

Terms of Use: All content is protected by copyright. You agree that you will not modify, copy, reproduce, sell, or distribute any content in any manner or medium without express written permission from the copyright holders.

© Alto Films Ltd 2021. All rights reserved.