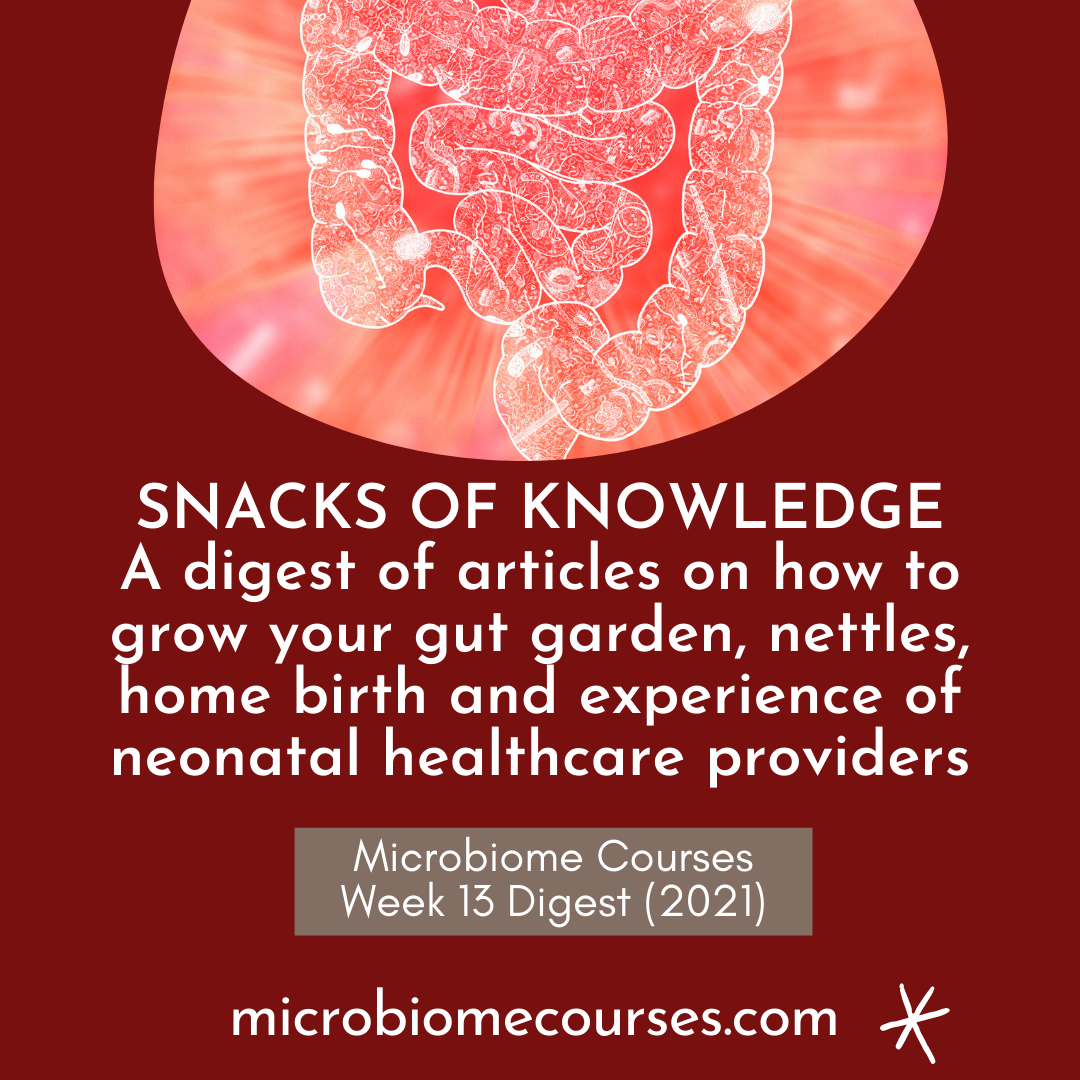 This week's digest of tasty snacks of knowledge has five new blog-posts.
Here are the quick links. Summaries are further down this page.

***

Social media:
As always, please follow us, like us, connect with us and tell us what you think!
FACEBOOK (please join us!): https://www.facebook.com/groups/473121803401844/
INSTAGRAM (please show some love!): https://www.instagram.com/microbiomecourses/
PINTEREST (please save the pin!): https://www.pinterest.co.uk/MicrobiomeCourses/

LINKEDIN (please connect with us!): https://www.linkedin.com/in/toniharman/

***
Snacks of knowledge

The COVID-19 pandemic has disrupted health systems worldwide. It has also taken a heavy toll on the health and wellbeing of maternity health professionals around the world. In a global survey of 1120 neonatal healthcare providers, more than 85% of health personnel feared for their own health...
***

I love this article talking about how to grow your "gut garden" - and how it starts from birth! The article in askthescientists.com by Jenna Templeton offers four quick and easy way to nurture your gut microbes as an adult. But I especially like the analogy of your gut as a garden to...
***
One of my favourite passions is gardening, or more specifically, to work on our allotment. This is my fourth year of being an allotment owner and I love it. It's very mindful, I love eating the food we grow ourselves and research has shown that gardening could be good for your gut...

***

Vaccines for COVID-19 are being administered to millions of people across the world. Now a new study by Gray K.J. et al. (March 25, 2021) published in American Journal of Obstetrics and Gynecology found the mRNA COVID-19 vaccines can be effective in producing antibodies against the SARS-CoV-2...

***
Wow. Amazing results of a new study looking at predicted hospital resource savings that could have occured if all low-risk women in Australia gave birth at home or in birth centers in 2017. Study: The study by Callander EJ et al. (Feb 12, 2021) looked at an administrative data set...

***
Want to help?

Together, we can make a difference to the health of the next generation.

It's simple.

Share our blog-posts on social media, so health professionals and parents become more aware of the science.
1. Please share this blog far and wide! https://bit.ly/3m1wOs1

2. Every Monday, we send out a weekly digest to everyone enrolled in this School. If you haven't already done so, do enroll to receive the weekly digest. It's free! https://bit.ly/3cYrQK8

3. Take our FREE mini-course and recommend it to your friends - to learn about the infant microbiome (and earn a free L-CERP and CPD HOUR!): https://bit.ly/3rEmyHL

***
Take our free mini-course!
Join our FREE one hour mini-course on the infant microbiome.
Approved for 1 L-CERP (IBLCE) & 1 CPD HOUR (ACM)
Immediate access and go-at-your-own pace.
Learn from 7 professors about why vaginal birth and breast milk are so critical to the infant immune system.
Link to enroll: >>> https://microbirth.teachable.com/p/specialinfantmicrobiome1/

***