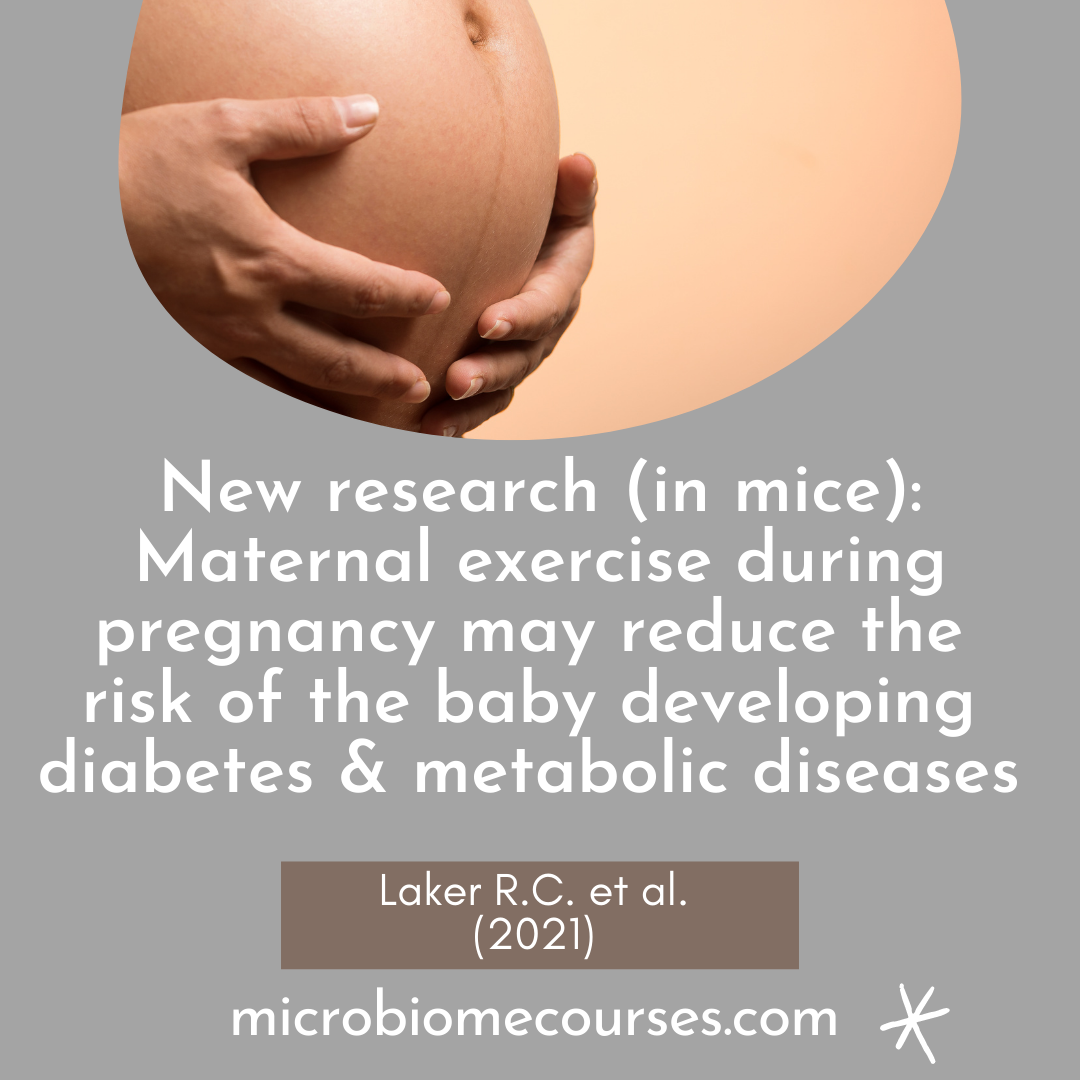 Fascinating new research on the importance of a pregnant mother exercising during pregnancy.
A new study (in lab mice) by Laker RC et al. (2021) suggests that exercise taken by the expectant mother during pregnancy can reduce the chances of the baby developing diabetes and other metabolic diseases later in life.

The study
The research suggests exercise taken by an expectant mother during pregnancy could create epigenetic changes in the mother, which in turn could affect the workings of the genes in the baby.
(Epigenetics is one of the main subjects discussed in our Infant Microbiome & Epigenetics course - featuring 11 professors & approved for 9 hours CPD / CE / CERPs)
To quote from the research paper by Laker R.C. et al. (2021)

"These findings demonstrate the negative consequences of maternal and paternal HF (high-fat diet) for the offspring's metabolic outcomes later in life possibly through different epigenetic mechanisms, and maternal exercise during gestation mitigates the negative consequences. "

And even more interesting....
Here's where it gets really interesting.
Maternal exercise during pregnancy can "completely" block any negative effects on the baby of having an obese parent (either mother or father).
To quote from the research paper by Laker R.C. et al. (2021)
"Maternal or paternal obesity causes metabolic impairment in adult offspring in mice. Maternal exercise during gestation can completely mitigate metabolic impairment. "
My take-home message:
Obviously this is a mouse study and humans are very different from mice.
But if future research finds this is the same in humans, it could have significant implications for future human health. Moderate exercise during pregnancy could be a way for an expectant parent to help ensure her baby has the best possible future health.
Wow!
***
Article and science reference
Easy to read article about the research: http://www.ogpnews.com/2021/03/exercise-during-pre...

Science Reference: Rhianna C. Laker, Ali Altıntaş, Travis S. Lillard, Mei Zhang, Jessica J. Connelly, Olivia L. Sabik, Suna Onengut, Stephen S. Rich, Charles R. Farber, Romain Barrès, Zhen Yan. Exercise during pregnancy mitigates negative effects of parental obesity on metabolic function in adult mouse offspring. Journal of Applied Physiology, 2021; 130 (3): 605 DOI: 10.1152/japplphysiol.00641.2020
https://journals.physiology.org/doi/full/10.1152/j...

Link to our Infant Microbiome & Epigenetics course (featuring 11 top University professors and approved for 9 HOURS CPD / CE / & 9 CERPs): https://microbirth.teachable.com/p/microbirthonlin...

***

Want to help?

Together, we can make a difference to the health of the next generation.

It's simple.

Share our blog-posts on social media, so health professionals and parents become more aware of the science.
1. Please share this blog far and wide! https://bit.ly/3sGqcSD

2. Every Monday, we send out a weekly digest to everyone enrolled in this School. If you haven't already done so, do enroll to receive the weekly digest. It's free! https://bit.ly/3cYrQK8

3. Take our FREE mini-course and recommend it to your friends - to learn about the infant microbiome (and earn a free L-CERP and CPD HOUR!): https://bit.ly/3rEmyHL

***

Social media:
I would love to connect with you via social media.
FACEBOOK (please join us!): https://www.facebook.com/groups/473121803401844/
INSTAGRAM (please show some love!): https://www.instagram.com/microbiomecourses/
PINTEREST (please save the pin!): https://www.pinterest.co.uk/MicrobiomeCourses/

***
Want to know more?
Join our FREE one hour mini-course on the infant microbiome.
Approved for 1 L-CERP (IBLCE) & 1 CPD HOUR (ACM)
Immediate access and go-at-your-own pace.
Learn from 7 professors about why vaginal birth and breast milk are so critical to the infant immune system.
Link to enroll: >>> https://microbirth.teachable.com/p/specialinfantmicrobiome1/

***