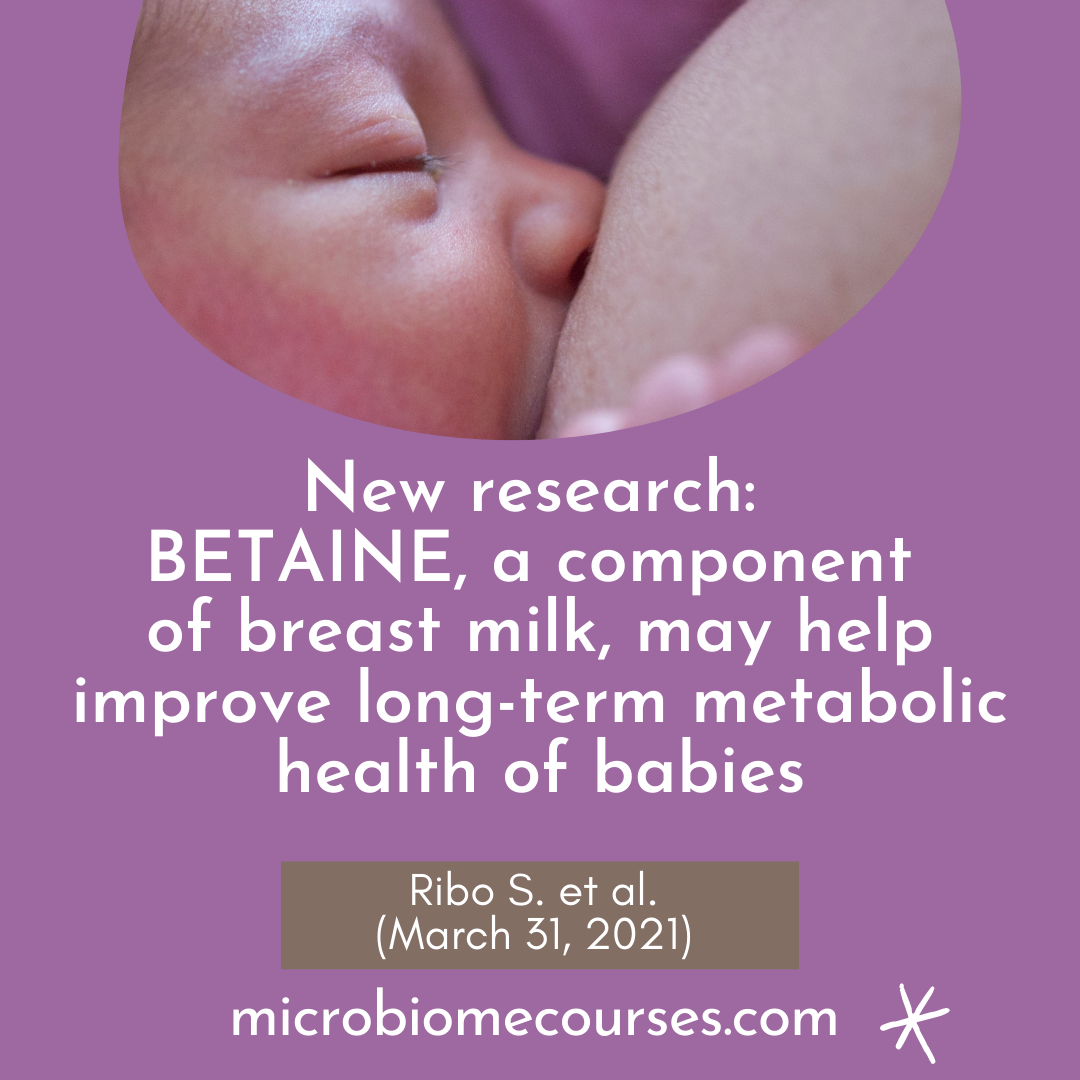 I had never heard of this component of breast milk before - BETAINE.
A quick google search and I found out betaine is a type of amino acid widely found in animals, plants, whole-grain foods, seafood (especially marine invertebrates) and spinach.
And it's in breast milk.
New research suggests that betaine in breast milk may help improve long-term metabolic health of babies. Betaine could help the growth of beneficial bacteria in the infant gut, which may affect long-term metabolic health.

The study:

Ribo S. et al., (Mar 31, 2021) were looking to identify substances associated with rapid early growth - which previous research had linked to increased risk of obesity in later life.

Scientists studied the breast milk from 34 exclusively breastfeeding mothers from Oklahoma, USA.

The scientists looked at choline, betaine, methionine, SAM, SAH, and cystathionine concentrations in the breast milk samples obtained 1 month after birth.

The scientists looked at potential associations with infant growth rate - looking for rapid increase in weight-for-length from birth to age 1 month.

The scientists adjusted for pre-pregnancy maternal BMI, gestational weight gain, and delivery method.

The results:

Breast milk betaine content is inversely associated with infant growth. To quote from the paper:

"We observed a significant inverse association between weight-for-length z score change and milk betaine concentration"

In other words: Low levels of betaine was linked to rapid early growth in babies.

Further findings:
Here's where things get really interesting....
Further research in mice found that babies that received betaine-enriched milk weighed 10% less than controls, and that difference continued into adulthood.
The effect was even more pronounced in the mouse babies (called pups) whose mothers were obese.
The scientists also found a link between higher betaine content in breast milk and higher abundance of a beneficial type of bacteria called Akkermansia muciniphila in the infant gut.

According to the paper, "Furthermore, administration of A. muciniphila to mouse pups during the lactation period partially replicated the effects of maternal breast milk betaine, including increased intestinal goblet cell number, lower adiposity, and improved glucose homeostasis during adulthood. These data demonstrate a link between breast milk betaine content and long-term metabolic health of offspring. "

Other research seems to reflect these findings.

According to this easy-to-understand article about the research in Science Mag "A second group of 109 babies and mothers, from Valencia, Spain, bolstered this connection. More betaine in breast milk was associated with more Akkerrmansia in the babies' fecal samples at 12 months of age. Other studies have shown lower levels of Akkermansia in humans and animal models are associated with obesity and other metabolic conditions."

Conclusion:

In other words:

More betaine in breast milk = more Akkermansia muciniphila in the infant gut = potentially better long-term metabolic health.

This leads to the question: could betaine play a part in "controlling" infant metabolism?

More research is needed to fully understand how betaine and the other components of breast milk may work to "control" metabolism in the infant, but it's another very interesting piece of a very complex but fascinating puzzle.

***
Article & science reference:
ARTICLE: Easy-to-understand article in Science Mag: https://www.sciencemag.org/news/2021/03/breast-milk-ingredient-may-help-power-healthy-infant-gut?

SCIENCE REFERENCE: Silvia Ribo, David Sánchez-Infantes, Laura Martinez-Guino, Izaskun García-Mantrana, Marta Ramon-Krauel, Mireia Tondo, Erland Arning, Miquel Nofrarías, Óscar Osorio-Conles, Antonio Fernández-Pérez, Pedro González-Torres, Judith Cebrià, Aleix Gavaldà-Navarro, Empar Chenoll, Elvira Isganaitis, Francesc Villarroya, Mario Vallejo, Joaquim Segalés, Josep C. Jiménez-Chillarón, Teodoro Bottiglieri, Ellen W. Demerath, David A. Fields, María Carmen Collado, Carles Lerin, Increasing breast milk betaine modulates Akkermansia abundance in mammalian neonates and improves long-term metabolic health, Science Translational Medicine, March 31 2021, Vol. 13, Issue 587, eabb0322 DOI: 10.1126/scitranslmed.abb0322 Increasing breast milk betaine modulates Akkermansia abundance in mammalian neonates and improves long-term metabolic health
***

Want to help?

Together, we can make a difference to the health of the next generation.

It's simple.

Share our blog-posts on social media, so health professionals and parents become more aware of the science.
1. Please share this blog far and wide! https://bit.ly/3sMvCeF

2. Every Monday, we send out a weekly digest to everyone enrolled in this School. If you haven't already done so, do enroll to receive the weekly digest. It's free! https://bit.ly/3cYrQK8

3. Recommend our FREE mini-course to your friends - so they can learn about the infant microbiome (and they can earn a free L-CERP and CPD HOUR!): https://bit.ly/3rEmyHL

***

Social media:
I would love to connect with you via social media.
FACEBOOK (please join us!): https://www.facebook.com/groups/473121803401844/
INSTAGRAM (please show some love!): https://www.instagram.com/microbiomecourses/
PINTEREST (please save the pin!): https://www.pinterest.co.uk/MicrobiomeCourses/

***
Want to know more about the power of breast milk?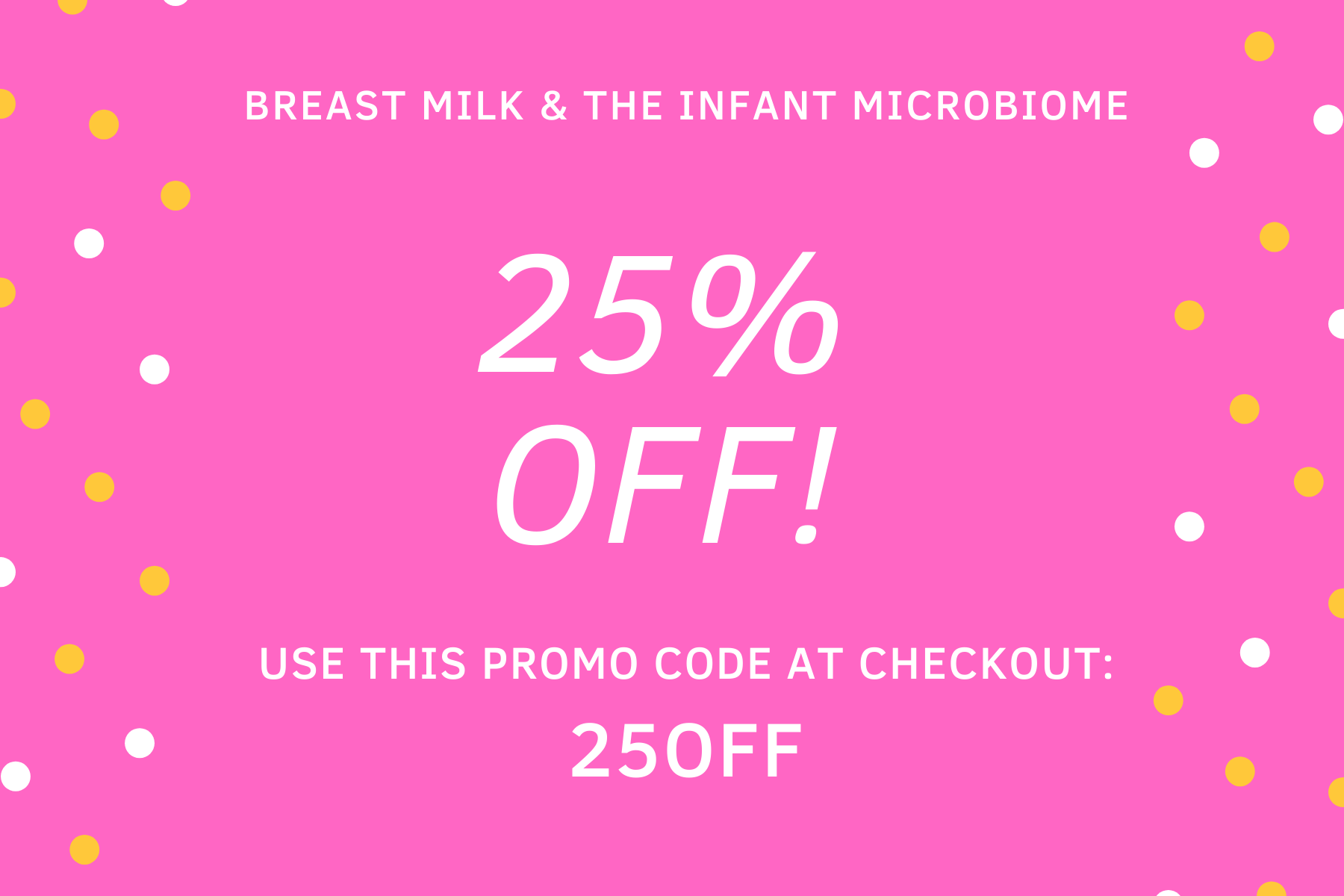 Save 25% off the full course if you use this PROMO CODE at checkout: 25OFF

https://microbirth.teachable.com/p/breastmilk1

***

BREAST MILK AND THE INFANT MICROBIOME - FULL COURSE
If you want to learn the difference between secretors and non-secretors, do consider the full-length course!
Learn from 7 top lactation scientists about the components of breast milk, an explanation of human milk oligosaccharides and how they impact the infant immune system, other body systems including possibly brain development. Plus the course explores breast milk, expressed milk, donor milk and the impact of infant formula.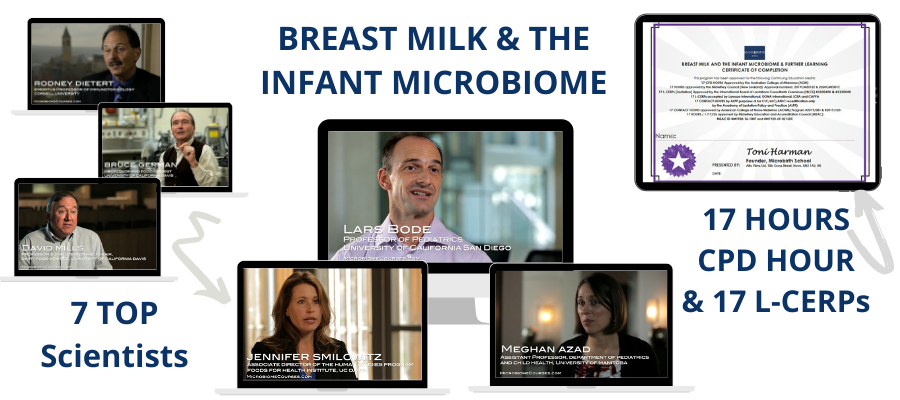 And earn 17 L-CERPs (IBLCE), 17 CONTACT HOURS (ACNM), 17 HOURS (ACM), 17 HOURS (MEAC).

17 L-CERPs (IBLCE) also accepted by ALPP

Also accepted as 17 CONTACT HOURS by Lamaze International, CAPPA, ICEA & DONA Internationals

17 CONTACT HOURS (ACNM) - accepted by ACNM

Also accepted as 17 NURSING CNEs by many state boards

17 HOURS (MEAC)
17 NURSING CNEs (Midwifery Council of New Zealand)
17 CPD HOURS (ACM)

Also accepted for 17 HOURS CPD by NMC
You can buy the course for 25% off with this PROMO CODE used at checkout: 25OFF https://microbirth.teachable.com/p/breastmilk1
***

What do other people think of the course?
Gulara, Psychologist, UAE, Dubai
I participate in many webinars and courses, but this course is simply incredible.
Ronee - CLC, parenting coach, Pennsylvania, USA
I loved this course! I definitely have an affection towards microbes now, and I'm always sharing my findings with others! Definitely would recommend!
Diana - Childbirth educator, doula & breastfeeding educator, UK

This course was amazing. I learned a lot more about the microbiome than I already did. I find the human microbiome totally fascinating and this just added more to my knowledge. Loved it!
Angelia - Lactation Consultant, Sacramento, Ca., USA
This course is very informative and should be a required course for all healthcare workers who care for new moms and babies!
Debra - IBCLC with Midwifery, Cambridge, UK
Every health professional should know this information....it will guide and empower you in your work to better improve maternal and infant health under your watch
Ramona - Lamaze Childbirth Educator and CLC, Florida Panhandle
This course will have you SO enthusiastic about the ability of women to make human milk and in the benefits of human milk being SO much more than I ever knew!
Cindy -BSN, RNC-MNN, IBCLC, Pittsburgh, PA United States
Being an RN/IBCLC this information will impact my education for mother-infant dyads. Being to give them the education in order to make a well informed choice will speak volumes!
Marcia - RN, Lactation Consultant, Massachusetts, USA
Breast Milk and the Infant Microbiome is a a well organized and informative presentation on the properties if human milk specifically HMOs. I have been a lactation consultant and maternal child nurse for many years, this course expanded my knowledge base and will improve my practice and staff education repertoire. I would recommend this course to lactation consultants and health care providers supporting breastfeeding families.
You can save 25% off the full price if you use this PROMO CODE at checkout: 25OFF https://microbirth.teachable.com/p/breastmilk1

***