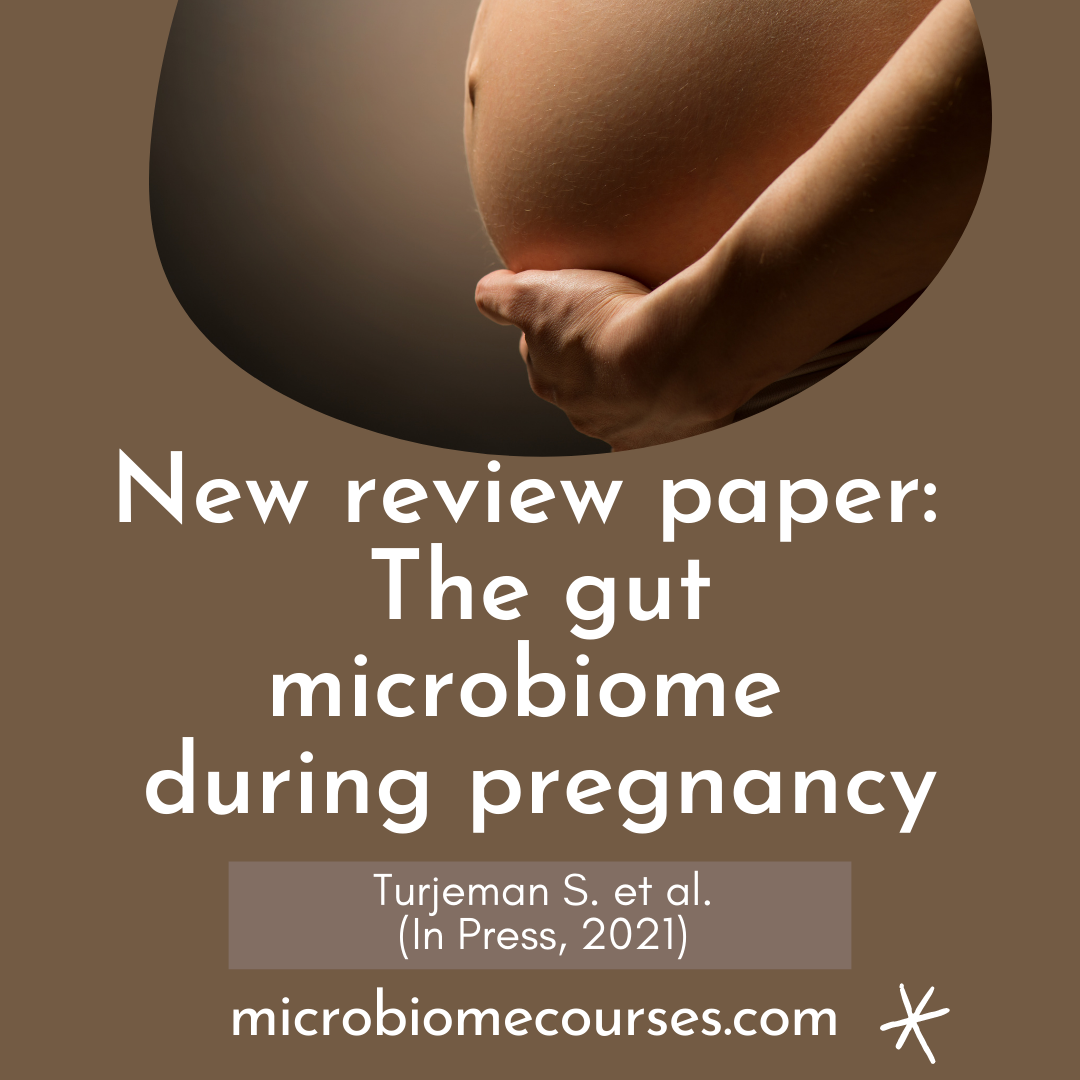 If you are like me, you may appreciate this new review paper summarising some of the changes to the gut microbiome that happen during pregnancy.
The paper (which is currently in Press*) by Turjeman S et al., (2021) explains that during pregnancy, there are many changes to the mother or expectant parent's body.

These include changes in hormonal levels, changes in the immune system and metabolic changes.
What is really fascinating (at least to me), is that these changes can impact the pregnant mother's gut microbiome both directly and indirectly.

This is an important area of research as studies suggest the maternal pregnancy microbiome can affect fetal development as well as the expectant parent's health.

*This review paper is in press which means that is it accepted and peer reviewed but not yet assigned to volumes/issues.

Regarding the gut microbiome of the pregnant mother.

The paper offers a round-up of recent studies including research on how the gut microbiome affects the health of the expectant mother. If you are struggling to keep on top of the latest research - this is a great quick summary!

Regarding hormones, Nuriel-Ohayon et al. showed progesterone can affect the composition of the gut microbiome, and specifically the levels of Bifidobacterium.

Koren et al showed Bifidobacteria are extremely important as they are fed by human milk oligosaccharides in breast milk. The paper discusses that the "elevated levels of progesterone towards the end of pregnancy cause an increase in Bifidobacteria so that they can be transferred to the offspring."

Other changes to the gut microbiome during pregnancy include "an increase in beta diversity, a decrease in alpha diversity and increased relative abundance of opportunistic pathogens, which may be involved in educating the infant immune system."

In terms of the baby's health:

The paper offers a round-up of recent studies including research on how the gut microbiome could affect baby's health.

If you are struggling to keep up with research in this facinating area, this is all super-interesting, and definitely worth reading the full paper (rather than my quick summary).

A study by Li et al. hypothesized bacterial metabolites from the mother could be passed to the fetus. This could help educate the infant immune system, potentially preparing the fetal gut microbiome for the main colonisation by bacteria from birth.

Gomez de Aguero et al., suggests in a mouse study the priming of the fetal immune system by the maternal microbiome. In the study, scientists colonised pregnant germ-free mice which impacted the immune system in the infants.

In 2020, a mouse study by Vuong, et al. demonstrated the maternal microbiome modulates fetal neurodevelopment.

In summary:

The paper offers a great summary of how changes to the expectant parent's gut microbiome during pregnancy could affect both the mother and baby:

(1) changes help maintain healthy pregnancy;

(2) changes can contribute to fetal development

(3) changes help the baby acquire bacteria in the first days after birth

Scientitic reference:
Sondra Turjeman, Maria Carmen Collado, Omry Koren,The gut microbiome in pregnancy and pregnancy complications, Current Opinion in Endocrine and Metabolic Research, 2021, ISSN 2451-9650, https://www.sciencedirect.com/science/article/pii/S2451965021000211
https://doi.org/10.1016/j.coemr.2021.03.004

***

Want to help?

Together, we can make a difference to the health of the next generation.

It's simple.

Share our blog-posts on social media, so health professionals and parents become more aware of the science.
1. Please share this blog far and wide! https://bit.ly/3mLvZUO

2. Every Monday, we send out a weekly digest to everyone enrolled in this School. If you haven't already done so, do enroll to receive the weekly digest. It's free! https://bit.ly/3cYrQK8

3. Take our FREE mini-course and recommend it to your friends - to learn about the infant microbiome (and earn a free L-CERP and CPD HOUR!): https://bit.ly/3rEmyHL

***

Social media:
I would love to connect with you via social media.
FACEBOOK (please join us!): https://www.facebook.com/groups/473121803401844/
INSTAGRAM (please show some love!): https://www.instagram.com/microbiomecourses/
PINTEREST (please save the pin!): https://www.pinterest.co.uk/MicrobiomeCourses/

***
Want to know more?
Join our FREE one hour mini-course on the infant microbiome within our own online microbiome academy, Microbiome Courses.
Approved for 1 L-CERP (IBLCE) & 1 CPD HOUR (ACM)
Immediate access and go-at-your-own pace.
Learn from 7 professors about why vaginal birth and breast milk are so critical to the infant immune system.
Link to enroll: >>> https://microbirth.teachable.com/p/specialinfantmicrobiome1/

***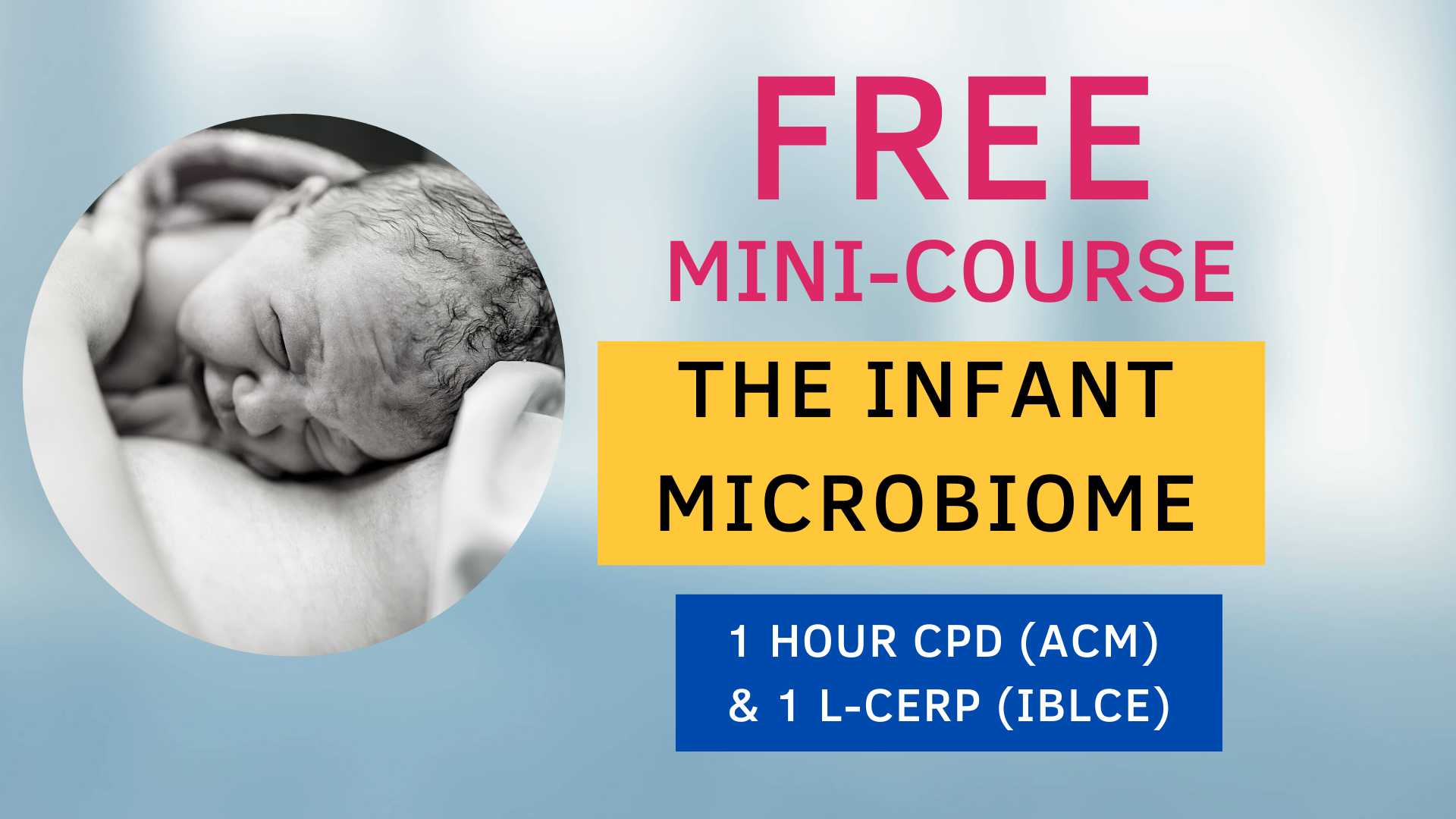 You can contact us via Microbirth website: https://microbirth.com/contact-us/

You can reach our school home page via any of these links:
Microbiome Courses: microbiomecourses.com

Microbiome Academy: microbiomeacademy.com

Microbirth School:
https://microbirth.teachable.com