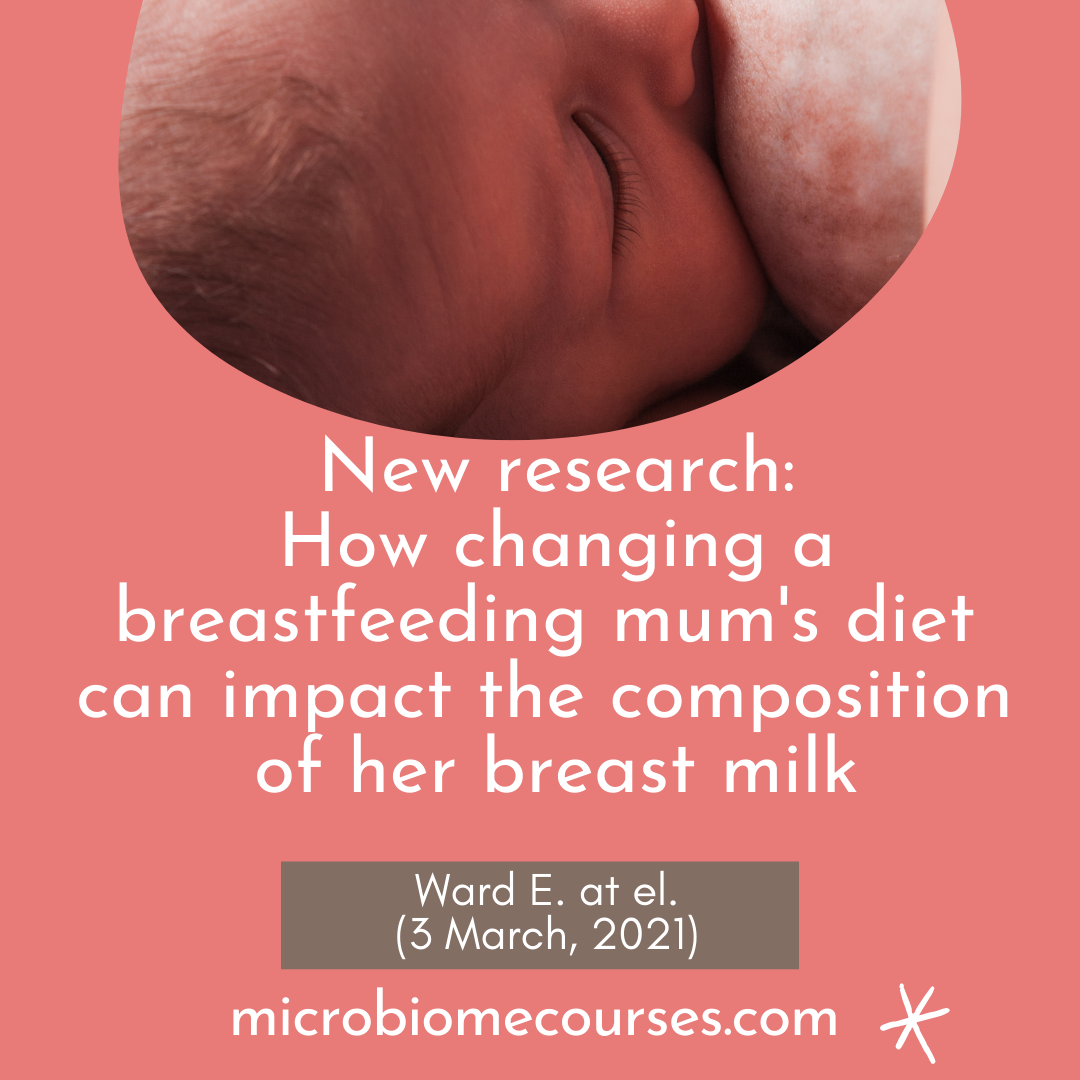 I don't know about you, but here is something I have often wondered.

How does changing a breastfeeding mum's diet affect the contents of her breast milk?
Now a new small study of 9 breastfeeding women provides a fascinating insight into exactly how diet may affect the composition of a mother's breast milk.

In particular, the study offers some insight into how the maternal diet can change the macronutrient concentrations in breast milk.

For example, one of the main findings was that if if a mum increased her sugar and fat intake even just for a day, this will affect the composition of her breast milk.

The study:
Ward E. at el. (3 March, 2021) looked at the impact of increased consumption of sugar and fat on breast milk protein, lactose and lipids (fats).
The study included 9 women who were exclusively breastfeeding.
Each of the 9 were provided with a control, higher fat (+28 g fat) and higher sugar (+66 g sugar) diet.

These diets were eaten over three separate days, with each day being at least 1 week apart.
Breast milk samples were collected hourly and analysed for triglycerides, cholesterol, protein, and lactose concentrations

A simple explanation of triglycerides:
Triglycerides are a type of fat. When you eat, any calories that are not needed straight away are converted into triglycerides and stored in fat cells. Later, triglycerides are released for energy between meals.

The results:

The study found the composition of breast milk had the following changes:

Triglycerides in breast milk increased significantly with both the higher fat and sugar diets, but there was a greater response in the higher sugar diet compared to the control.
Cholesterol in breast milk increased most in response to the higher sugar diet, compared to the control and the higher fat diet.

Triglyceride and lactose concentrations in breast milk increased, whereas protein in breast milk decreased in response to the higher fat diet compared to the control

And outside of the impact of diet, the researched noted additional changes to the composition of the breast milk.

The composition of breast milk changed over the day.
At the end of a day, concentations of triglycerides and cholestero were higher.

And interestingly, protein and lactose concentrations peaked at hour 10.



"Independent of diet, there were significant variations in breast milk composition over the day; triglycerides and cholesterol concentrations were higher at end of day, whereas protein and lactose concentrations peaked at Hour 10 (of 12)."
The conclusion:

To quote from the abstract:
"In conclusion, controlled short‐term feeding to increase daily sugar/fat consumption altered breast milk triglycerides, cholesterol, protein and lactose. The variations observed in breast milk protein and lactose across the 12 h period is suggestive of a circadian rhythm."

Key messages of the research (quoting from the paper)"

"Increasing sugar and fat intake in a controlled short‐term feeding study acutely affected breast milk composition.
Increasing sugar intake significantly increased breast milk triglycerides and to a greater extent than increasing fat intake.
Breast milk protein and lactose concentrations exhibited significant changes across the 12 h period independent of dietary intake, suggestive of circadian variation in concentrations."
Science reference:
Ward E, Yang N, Muhlhausler BS, et al. Acute changes to breast milk composition following consumption of high‐fat and high‐sugar meals. Matern Child Nutr. 2021;e13168. https://doi.org/10.1111/mcn.13168

https://onlinelibrary.wiley.com/doi/10.1111/mcn.13168#.YG7d3yetsM8.linkedin

***

Want to help?

Please share our blog-posts for our microbiome academy on social media, so health professionals and parents become more aware of the science.
1. Please share this blog far and wide! https://bit.ly/3dGzKIh

2. Every Monday, we send out a weekly digest to everyone enrolled in this School. If you haven't already done so, do enroll to receive the weekly digest. It's free! https://bit.ly/3cYrQK8

3. Recommend our FREE mini-course to your friends - so they can learn about the infant microbiome (and they can earn a free L-CERP and CPD HOUR!): https://bit.ly/3rEmyHL

***
Social media:
I would love to connect with you via social media.
FACEBOOK (please join us!): https://www.facebook.com/groups/473121803401844/
INSTAGRAM (please show some love!): https://www.instagram.com/microbiomecourses/
PINTEREST (please save the pin!): https://www.pinterest.co.uk/MicrobiomeCourses/

LINKEDIN (please connect with me): https://www.linkedin.com/in/toniharman/

***
Want to know more about the science of breast milk?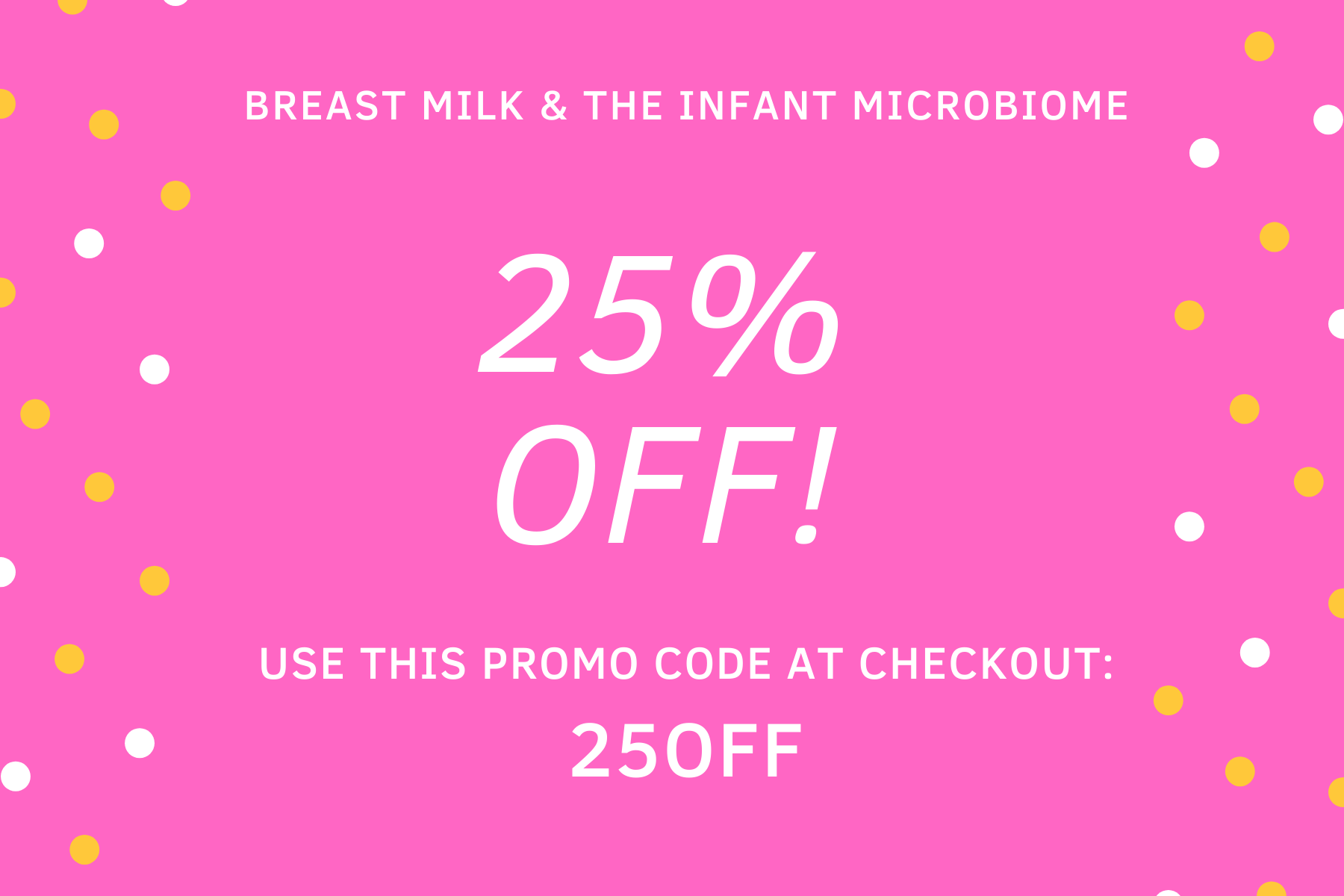 Save 25% off the full course if you use this PROMO CODE at checkout: 25OFF

https://microbirth.teachable.com/p/breastmilk1

***

BREAST MILK AND THE INFANT MICROBIOME - FULL COURSE
If you want to learn the difference between secretors and non-secretors, do consider the full-length course!
Learn from 7 top lactation scientists about the components of breast milk, an explanation of human milk oligosaccharides and how they impact the infant immune system, other body systems including possibly brain development. Plus the course explores breast milk, expressed milk, donor milk and the impact of infant formula.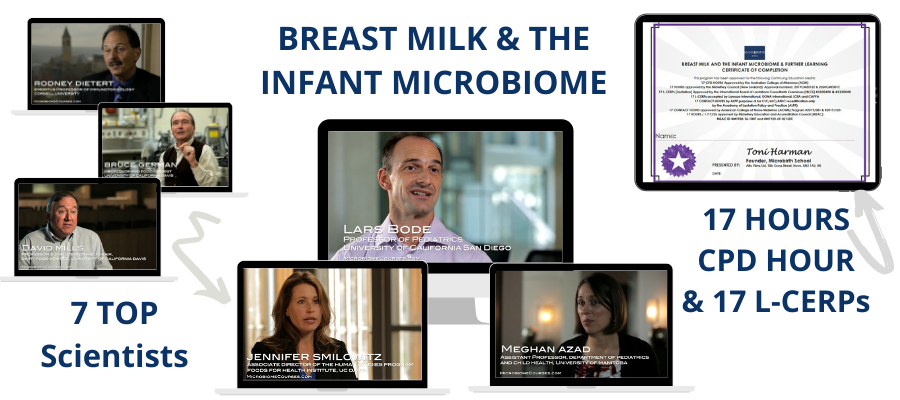 And earn 17 L-CERPs (IBLCE), 17 CONTACT HOURS (ACNM), 17 HOURS (ACM), 17 HOURS (MEAC).

17 L-CERPs (IBLCE) also accepted by ALPP

Also accepted as 17 CONTACT HOURS by Lamaze International, CAPPA, ICEA & DONA Internationals

17 CONTACT HOURS (ACNM) - accepted by ACNM

Also accepted as 17 NURSING CNEs by many state boards

17 HOURS (MEAC)
17 NURSING CNEs (Midwifery Council of New Zealand)
17 CPD HOURS (ACM)

Also accepted for 17 HOURS CPD by NMC
You can buy the course for 25% off with this PROMO CODE used at checkout: 25OFF https://microbirth.teachable.com/p/breastmilk1
***

What do other people think of the course?
Gulara, Psychologist, UAE, Dubai
I participate in many webinars and courses, but this course is simply incredible.
Ronee - CLC, parenting coach, Pennsylvania, USA
I loved this course! I definitely have an affection towards microbes now, and I'm always sharing my findings with others! Definitely would recommend!
Diana - Childbirth educator, doula & breastfeeding educator, UK

This course was amazing. I learned a lot more about the microbiome than I already did. I find the human microbiome totally fascinating and this just added more to my knowledge. Loved it!
Angelia - Lactation Consultant, Sacramento, Ca., USA
This course is very informative and should be a required course for all healthcare workers who care for new moms and babies!
Debra - IBCLC with Midwifery, Cambridge, UK
Every health professional should know this information....it will guide and empower you in your work to better improve maternal and infant health under your watch
Ramona - Lamaze Childbirth Educator and CLC, Florida Panhandle
This course will have you SO enthusiastic about the ability of women to make human milk and in the benefits of human milk being SO much more than I ever knew!
Cindy -BSN, RNC-MNN, IBCLC, Pittsburgh, PA United States
Being an RN/IBCLC this information will impact my education for mother-infant dyads. Being to give them the education in order to make a well informed choice will speak volumes!
Marcia - RN, Lactation Consultant, Massachusetts, USA
Breast Milk and the Infant Microbiome is a a well organized and informative presentation on the properties if human milk specifically HMOs. I have been a lactation consultant and maternal child nurse for many years, this course expanded my knowledge base and will improve my practice and staff education repertoire. I would recommend this course to lactation consultants and health care providers supporting breastfeeding families.
You can save 25% off the full price if you use this PROMO CODE at checkout: 25OFF https://microbirth.teachable.com/p/breastmilk1

***

You can contact us via Microbirth website: https://microbirth.com/contact-us/

You can reach our school home page via any of these links:
Microbiome Courses: microbiomecourses.com

Microbiome Academy: microbiomeacademy.com

Microbirth School:
https://microbirth.teachable.com