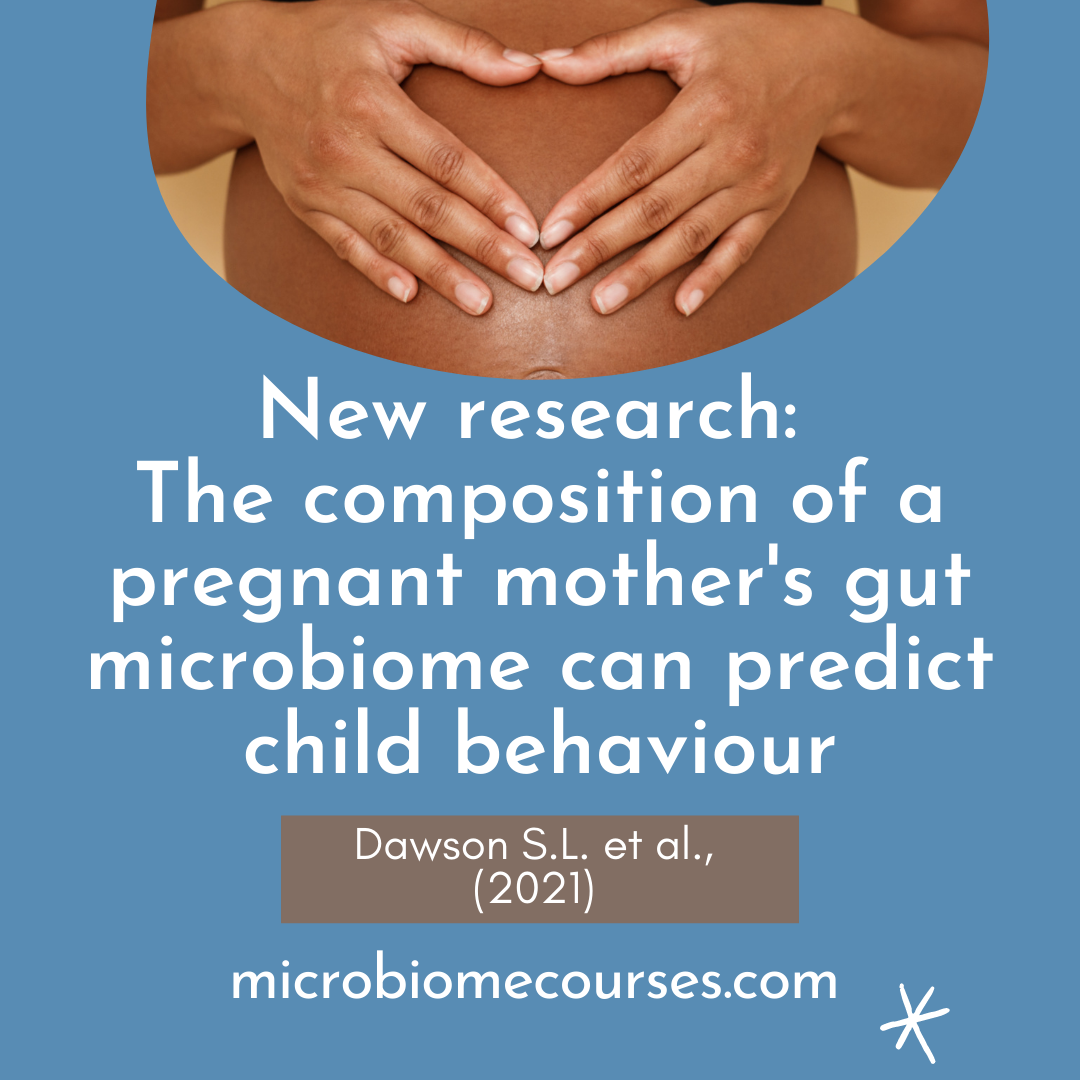 ***

Wow. Fascinating and important new research.

A new study by Dawson S.L. et al., (2021) published in The Lancet shows the composition of a pregnant mother's gut microbiome can predict a child's future behaviour.

That means, the types of microorganisms present in the gut of an expectant parent is connected to the baby's brain development and future behaviour.
***

Teaching Expectant Parents Early:

If information about the infant microbiome can reach an expectant parent EARLY in pregnancy - this can help the parent nurture a healthy gut microbiome.

As this new research shows, this can support brain development and can influence future behaviour.

Not just that, but with the idea of maternal heritage, a pregnant parent's gut microbiome is passed to her baby during vaginal birth.

If the mother can nurture her gut microbiome during pregnancy so that it is full of with beneficial gut microbes, then these beneficial gut microbes will be passed to her child during vaginal birth.

If the mother breastfeeds, these beneficial microbes will be then fed by the special sugars in breast milk. This helps ensure the right beneficial microbes are present for the optimal training of the infant immune system. This can help protect a baby for life.
In effect - this knowledge is super-powerful.

Expectant parents can use this knowledge to influence their child's immune system EARLY - even before birth.

Wow.

***

Back to the new research by Dawson S.L. et al., (2021)...

The Study
213 mothers and 215 children from an Australian birth cohort were included in the study.
The researchers found the pregnant mother's gut microbiome during the third trimester PREDICTED the child's behaviour at age 2.
"Taxa from butyrate-producing families, Lachnospiraceae and Ruminococcaceae, were more abundant in mothers of children with normative behaviour"
The researchers also found that a healthy prenatal diet, so the healthy diet of a mother during pregnancy, indirectly related to decreased child internalising behaviour.
The conclusion:

"These findings support animal studies showing that the composition of maternal prenatal gut microbiota is related to offspring brain development and behaviour."

Scientific reference:

Dawson SL, O'Hely M, Jacka FN, Ponsonby AL, Symeonides C, Loughman A, Collier F, Moreno-Betancur M, Sly P, Burgner D, Tang MLK, Saffery R, Ranganathan S, Conlon MA, Harrison LC, Brix S, Kristiansen K, Vuillermin P; BIS Investigator Group. Maternal prenatal gut microbiota composition predicts child behaviour. EBioMedicine. 2021 Jun 4;68:103400. doi: 10.1016/j.ebiom.2021.103400 Epub ahead of print. PMID: 34098340. https://www.sciencedirect.com/science/article/pii/...

Contact Us
You can contact us via Microbirth website: https://microbirth.com/contact-us/

You can reach our school home page via any of these links:
Microbiome Courses: microbiomecourses.com

Microbiome Academy: microbiomeacademy.com

Microbirth School: https://microbirth.teachable.com

***
Social media
As always, I would love to connect with you via social media.
FACEBOOK (please join us!): https://www.facebook.com/groups/473121803401844/
INSTAGRAM (please show some love!): https://www.instagram.com/microbiomecourses/
PINTEREST (please save our pins): https://www.pinterest.co.uk/MicrobiomeCourses/

LINKEDIN (please connect with me): https://www.linkedin.com/in/toniharman/

***
Terms of Use: All content is protected by copyright. You agree that you will not modify, copy, reproduce, sell, or distribute any content in any manner or medium without express written permission from the copyright holders.

© Alto Films Ltd 2021. All rights reserved.