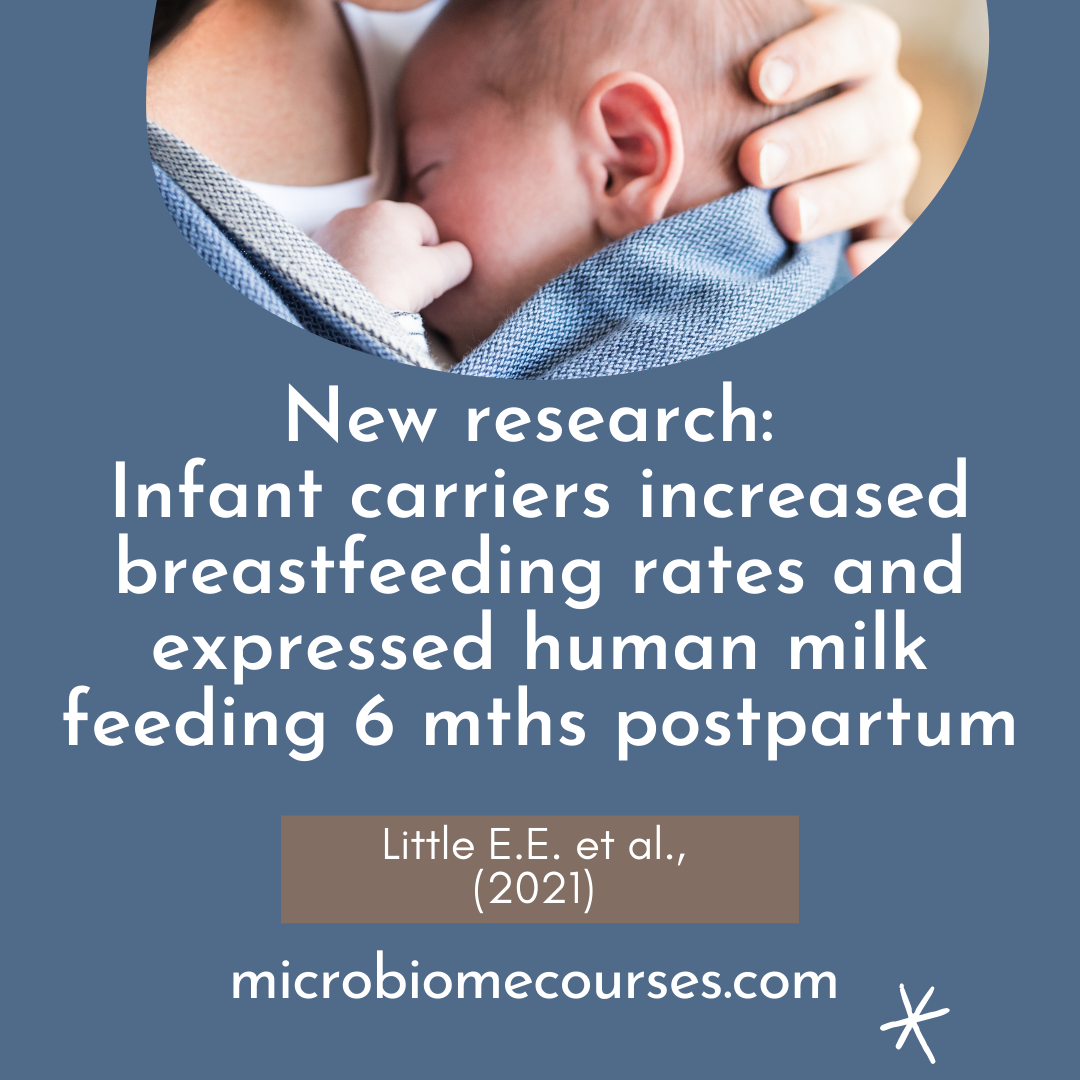 A new study finds the power of babywearing (carrying a baby in a sling) as a fantastic yet simple way to hugely improve breastfeeding rates 6 months after birth.

As you know, immediate skin-to-skin contact after birth increases initiation and duration of breastfeeding.

Indigenous communities around the world already know the importance of carrying a baby for breastfeeding. Indeed, carrying a baby may promote breastfeeding through increased responsiveness to early hungry cries, increased bonding and decreased crying.
Now a new study by Little E. et al., (2021) found babywearing parents were more likely to be breastfeeding or feeding expressed human milk 6 months postpartum (68%) compared to parents in the control group (40%).

The hypothesis

Researchers and community health professionals from Project Concern International, University of California Merced, University of Oregon, and University of Texas at Austin investigated this question:

If parents were provided with soft-structured carriers (and good quality instructions) during pregnancy, could this increase the likelihood of breastfeeding and expressed human milk feeding 6 months after birth?

The Study
A randomized parallel-group controlled trial was conducted between February 2018 to June 2019.

The researchers looked at how babywearing affected feeding outcomes.⠀
At 30 weeks' gestation:

50 parents received an a soft structured infant carrier and instructions on the proper use to facilitate increased physical contact with their babies (the intervention group).
50 parents were assigned to a "waitlist control group" (the control group)
Parents in the intervention group used the infant carrier for an average 1.7 hours a day.
Feeding outcomes were assessed with online electronic surveys (on their phones) at 6 weeks, 3 months, and 6 months postpartum.
The Results
Parents in the babywearing group (the intervention group) were more likely to be breastfeeding or feeding expressed human milk at 6 months postpartum (68%) compared to the control group parents (40%).
The conclusion: "Infant carriers increased rates of breastfeeding and expressed human milk feeding at 6 months postpartum."

To the knowledge of the researchers, this was the first randomised control study to demonstrate the efficacy of infant carriers to increase breastfeeding in the United States.

My View

Wow!

It is wonderful to see that such a simple thing as carrying a baby made such a huge difference to breastfeeding rates.

By increasing the number of babies receiving breast milk either directly at the breast or by being fed expressed breast milk at age 6 months, this could make a huge difference to a child's developing microbiome, with potential life-long consequences for a child's health!

What do you think?


Science reference:
Emily E. Little, Camille C. Cioffi, Lisa Bain, Cristine H. Legare, Jennifer Hahn-Holbrook, An Infant Carrier Intervention and Breastfeeding Duration: A Randomized Controlled Trial, Pediatrics Jul 2021, 148 (1) e2020049717;
doi: 10.1542/peds.2020-049717
https://pediatrics.aappublications.org/content/148...
***
Social media:
I would love to connect with you via our social media channels.
FACEBOOK (please join us!): https://www.facebook.com/groups/473121803401844/
INSTAGRAM (please show some love!): https://www.instagram.com/microbiomecourses/
PINTEREST (please save the pin!): https://www.pinterest.co.uk/MicrobiomeCourses/

LINKEDIN (please connect with me): https://www.linkedin.com/in/toniharman/

***
Want to know more?
Take our FREE one hour mini-course on the infant microbiome and learn from 7 professors about why vaginal birth and breast milk are so critical to the infant immune system.
Approved for 1 L-CERP (IBLCE) & 1 CPD HOUR (ACM)
Immediate access and go-at-your-own pace.
Link to enroll: >>> https://microbirth.teachable.com/p/specialinfantmicrobiome1/

***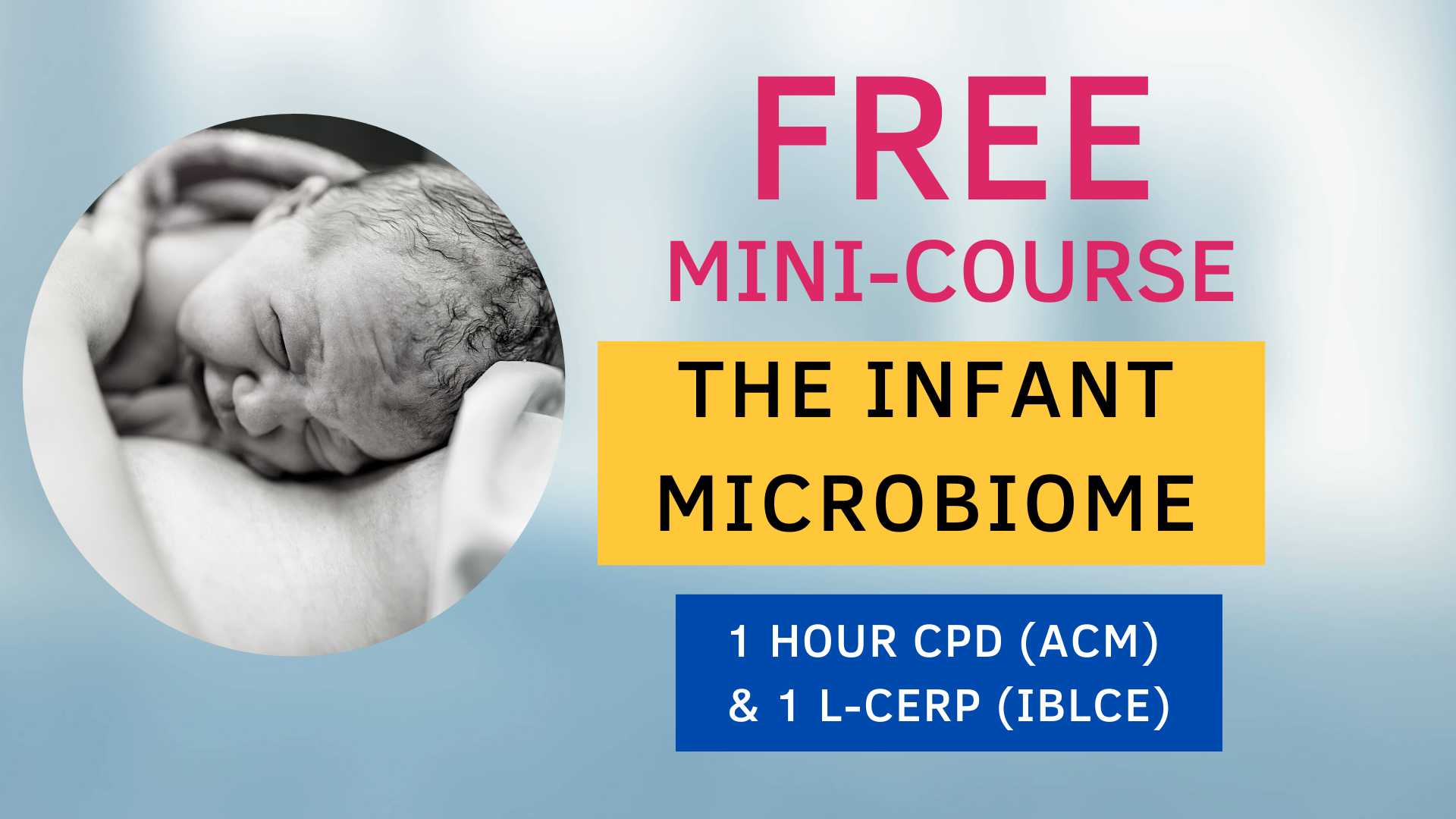 Contact Us

You can contact us via Microbirth website: https://microbirth.com/contact-us/

You can reach our school home page via any of these links:
Microbiome Courses: microbiomecourses.com

Microbiome Academy: microbiomeacademy.com

Microbirth School: https://microbirth.teachable.com

***
Terms of Use: All content is protected by copyright. You agree that you will not modify, copy, reproduce, sell, or distribute any content in any manner or medium without express written permission from the copyright holders.

© Alto Films Ltd 2021. All rights reserved.