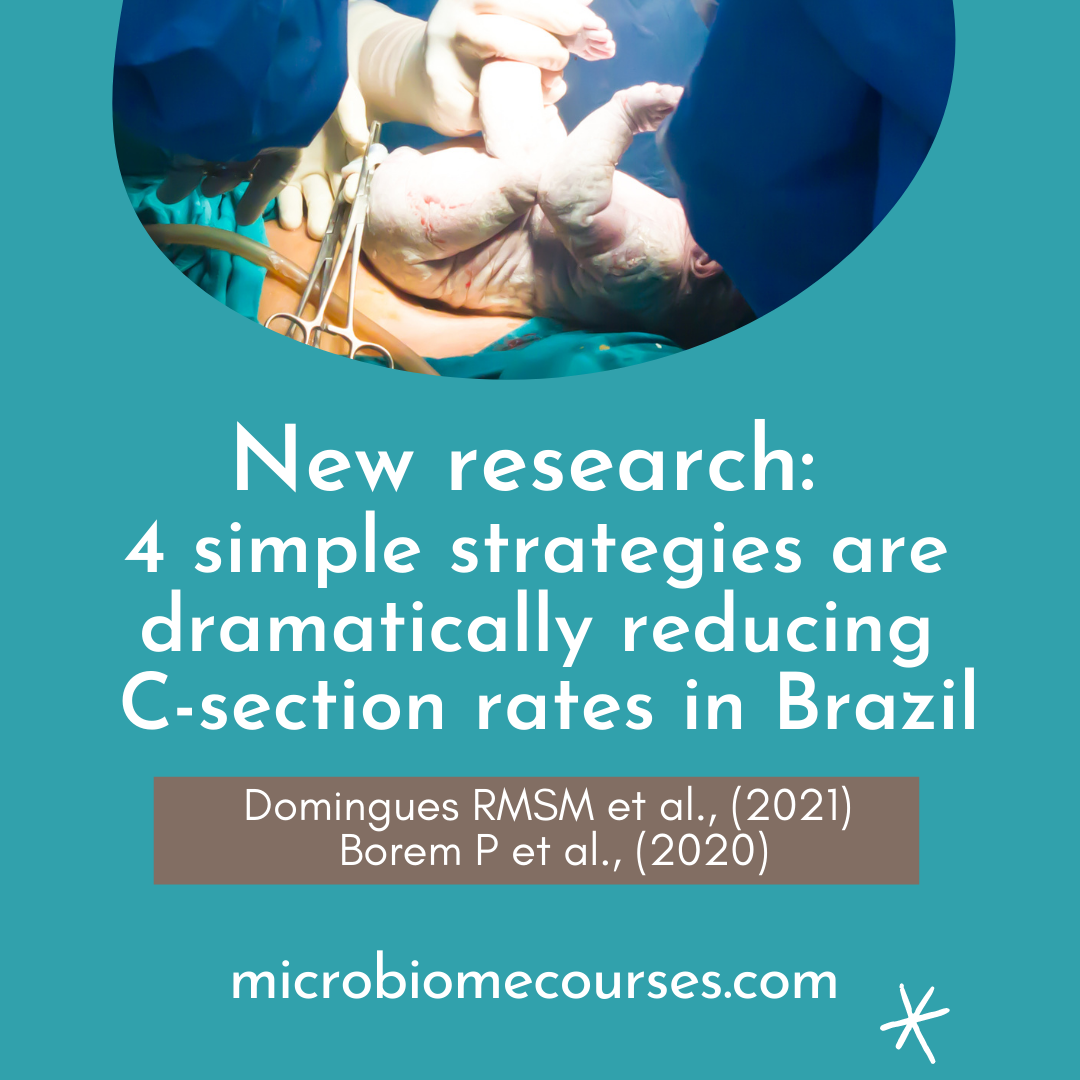 ***
Every year in Brazil since 2009, more babies are born by C-section than are born vaginally.

According to Rudey et. al (2020), of 11,774,665 live births in Brazil between 2014 to 2017, 55.8% of births were by C-section.

In many private hospitals in Brazil, C-section rates are even higher.

According to two national surveys by Domingues RMSM et al (2014) and Rebelo et al. (2010), the C-section rate in private hospitals in Brazil reaches 80–90%.

Why does it matter?

That's 80-90% of babies missing out on receiving beneficial microbes from their mother's vagina and gut.

Emerging research indicates babies born by C-section have a different microbiome than babies born vaginally.

This 'altered microbiome' could impact the optimal training of the infant immune system. In turn, this could mean the child is at increased risk of non-communicable disease, with ramifications for lifelong health.

So what can be done?

Recent research indicates that 4 simple strategies can make a huge difference to C-section rates in Brazil.

Since 2015, a project to improve childbirth called Adequate Childbirth Project ("Projeto Parto Adequado"- PPA) has been implemented in Brazilian public and private hospitals.

PPA aims to improve the quality of care and reduce the numbers of C-section without clinical indications.
According to Borem et al (2020), PPA is a model of care that involves four relatively simple strategies to increase rates of vaginal births for low-risk pregnancies

So what are these 4 simple strategies? To quote from Boren et al (2020):

1) Coalition building of stakeholders with the common purpose of ensuring "appropriate delivery"

2) Empowering pregnant women to choose their preferred mode of delivery

3) Implementation of new care models favoring physiologic birth

4) Improved information systems for continuous learning by health care providers.

Results in private hospitals?

New research on the cost effectiveness of these strategies to reduce C-section by Domingues RMSM et al (2021) shows the PPA model of care has massively reduced the probability of C-section - by 57%.

This was a small study involving 238 births in a private Brazilian hospital.
"The PPA model of care resulted in a 56.9 percentage point reduction in the caesarean section probability (88.6% vs 31.7%, p < 0.001) with an incremental cost-effectiveness ratio of US$1,237.40 per avoided caesarean section."
Not just that. But the PPA model of care reduced the number of inductions, and lowered numbers of preterm births.

"Women in the PPA model of care also had a higher proportion of spontaneous and induced labor and a lower proportion of early term births."
This small study of 238 births shows these simple strategies to reduce C-section worked, and it was cost-effective - saving US$1,237.40 per vaginal birth that avoided C-section.

And it was safe. It reduced early term births and there were no negative severe health outcomes for the mothers of babies. "There were no maternal, fetal or neonatal deaths and no significant differences in cases of maternal and neonatal near miss. "

What about a bigger study in Brazilian hospitals?

Research by Borem et al., (2020) shows that PPA model of care increased rates of vaginal birth.

This was a larger study involving 119,378 births in 13 hospitals in São Paulo. To quote from Borem et al:

"For 119,378 targeted deliveries (36% of all deliveries) in 13 intervention hospitals, vaginal delivery increased from 21.5% in 2014 to 34.8% in 2016, a relative increase of 1.62 (95% CI 1.27-2.07, P<.001).

In the comparator analysis, vaginal delivery for all deliveries in the five São Paulo intervention hospitals increased from 16.1% to 23% (RI 1.43, P<.001) and from 11.0% to 13.0% (relative rate ratio 1.18, P<.001) in the eight nonintervention São Paulo hospitals."

My take-home message?

Wouldn't it be great if these four simple strategies could be employed around the world, especially in those places where for complex reasons, cesarean have soared in recent years.

This could be a huge step towards decreasing numbers of unnecessary C-sections.

This in turn would mean that more babies would receive those critical beneficial microbes from their mother's vagina and gut.

In turn, this could optimise infant immune system training, and in turn, this could improve a child's lifelong health.

In my mind, what are we waiting for? What do you think?

For more about the impact of Cesarean on the infant microbiome and epigenetics - see our signature Infant Microbiome & Epigenetics course (available for half-price until 23rd July on THIS LINK)

***

Science references:

Domingues RMSM, Luz PM, da Silva Ayres BV, Torres JA, do Carmo Leal M. Cost-effectiveness analysis of a quality improvement program to reduce caesarean sections in Brazilian private hospitals: a case study. Reprod Health. 2021 May 8;18(1):93. doi: 10.1186/s12978-021-01147-2. PMID: 33964941; PMCID: PMC8106214. https://pubmed.ncbi.nlm.nih.gov/33964941/

Borem P, de Cássia Sanchez R, Torres J, Delgado P, Petenate AJ, Peres D, Parry G, Pilar Betrán A, Barker P. A Quality Improvement Initiative to Increase the Frequency of Vaginal Delivery in Brazilian Hospitals. Obstet Gynecol. 2020 Feb;135(2):415-425. doi: 10.1097/AOG.0000000000003619. PMID: 31923054; PMCID: PMC7012340. https://pubmed.ncbi.nlm.nih.gov/31923054/

Rebelo F, Rocha CMM, Cortes TR, Dutra CL, Kac G. High cesarean prevalence in a national population-based study in Brazil: the role of private practice. Acta Obstet Gynecol Scand. 2010;89:903–8. https://pubmed.ncbi.nlm.nih.gov/20583936/

Domingues RMSM, Dias MAB, Nakamura-Pereira M, Torres JA, D'Orsi E, Pereira APE, et al. Process of decision-making regarding the mode of birth in Brazil: from the initial preference of women to the final mode of birth. Cad Saude Publica. 2014;30:S1–16. https://pubmed.ncbi.nlm.nih.gov/25167169/

Agência Nacional de Saúde Suplementar. Parto Adequado. http://www.ans.gov.br/gestao-em-saude/parto-adequado. Accessed June 27, 2020.

Rudey EL, Leal MDC, Rego G. Cesarean section rates in Brazil: Trend analysis using the Robson classification system. Medicine (Baltimore). 2020 Apr;99(17):e19880. doi: 10.1097/MD.0000000000019880. PMID: 32332659; PMCID: PMC7220553. https://pubmed.ncbi.nlm.nih.gov/32332659/

Negrini R, Ferreira RDDS, Albino RS, et alReducing caesarean rates in a public maternity hospital by implementing a plan of action: a quality improvement report BMJ Open Quality 2020;9:e000791. doi: 10.1136/bmjoq-2019-000791 https://bmjopenquality.bmj.com/content/9/2/e000791

***

Social media:
I would love to hear your views on our social media channels.
FACEBOOK (please join us!): https://www.facebook.com/groups/473121803401844/
INSTAGRAM (please show some love!): https://www.instagram.com/microbiomecourses/
PINTEREST (please save the pin!): https://www.pinterest.co.uk/MicrobiomeCourses/

LINKEDIN (please connect with me): https://www.linkedin.com/in/toniharman/

***
Want to know more?
Take our FREE mini-course on the infant microbiome.
Immediate access and go-at-your-own pace.
Learn from 6 professors about why vaginal birth and breast milk are so critical to a child's long-term health.
Link to enroll: >>> https://microbirth.teachable.com/p/taster/
***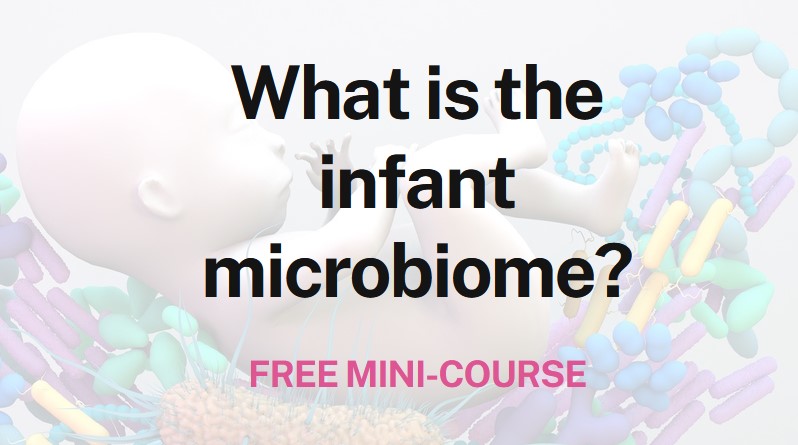 Contact Us

You can contact us via Microbirth website: https://microbirth.com/contact-us/

You can reach our school home page via any of these links:
Microbiome Courses: microbiomecourses.com

Microbiome Academy: microbiomeacademy.com

Microbirth School: https://microbirth.teachable.com

***
Terms of Use: All content is protected by copyright. You agree that you will not modify, copy, reproduce, sell, or distribute any content in any manner or medium without express written permission from the copyright holders.

© Alto Films Ltd 2021. All rights reserved.