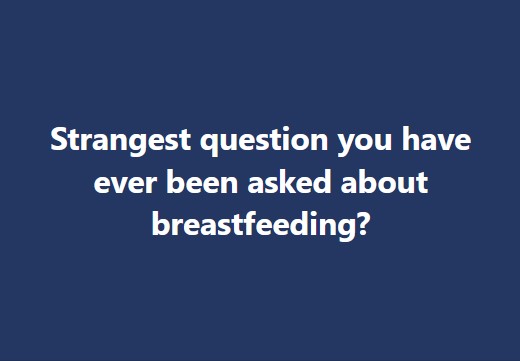 ***

Right now I am all about human milk.
I asked the brilliant people of our private Facebook group "Strangest question you have been asked about breastfeeding?"
I was so shocked by the results.
I thought I would share some of the answers with you, to show the need for more health professionals and more parents to understand the science of human milk!
Jodie-Marie - If I sit out in the sun, won't my milk spoil?
Maria - A male student nurse asked me, "how many holes are there in the nipple, one or many holes?"
Katherine - While I was tandem feeding my toddler and baby, my mother in law was shocked it was possible. She asked.."have you checked your breasts are not making water"?
Chrisje - What number of sanding paper to toughen up my nipples? ! My own nipples hurt just writing that.
Cecilia - Do I need to use a syringe needle to puck holes in my nipples (for the breast milk to come out) or can I use a sewing needle?
Elizabeth - From a HS student..."how do you get the milk in there when it's time"?
Antonella - A mother of a six months baby. She was a cop and had to resume shooting practice at the firing range; so she asked me if the lead of the bullets could spoil her milk...
Katherine - My friend's teenager daughter asked: "if mum ate loads of strawberries and bounced on the trampoline, would she make strawberry milkshake for my little brother?"
***
These answers show the URGENT need for more awareness of the critical importance of chest/breastfeeding.

And the need for more funding for more dedicated one-to-one support for all parents to initiate and continue feeding their baby exclusive human milk.

WHAT CAN YOU DO TO HELP?
You can tell people to join our FREE Breast Milk Scientific event!

To raise awareness with health professionals, we are running a free week-long event where EVERYONE can learn from 7 top lactation scientists.
And tomorrow Friday 13th August (1200 LA, 1500 NY, 2000 UK) – I am running a FREE live webinar to give health professionals an easy way to explain how human milk oligosaccharides to parents.
Access to the webinar is via the Breast Milk Scientific event.
There's still time to join on this link (access to the whole event ends Monday 16th August)
https://microbirth.teachable.com/p/breastmilkscientific111
Hope to see you there!
Toni
***
Social media:
I would love to hear your views on our social media channels.
FACEBOOK (please join us!): https://www.facebook.com/groups/473121803401844/
INSTAGRAM (please show some love!): https://www.instagram.com/microbiomecourses/
PINTEREST (please save the pin!): https://www.pinterest.co.uk/MicrobiomeCourses/
LINKEDIN (please connect with me): https://www.linkedin.com/in/toniharman/

***
Want to know more?
Take our new FREE mini-course on the infant microbiome.
Learn the science in just 30 minutes!

Immediate access and go-at-your-own pace.
Learn from 6 professors about why vaginal birth and breast milk are so critical to a child's long-term health.
Link to enroll: >>> https://microbirth.teachable.com/p/taster/
***