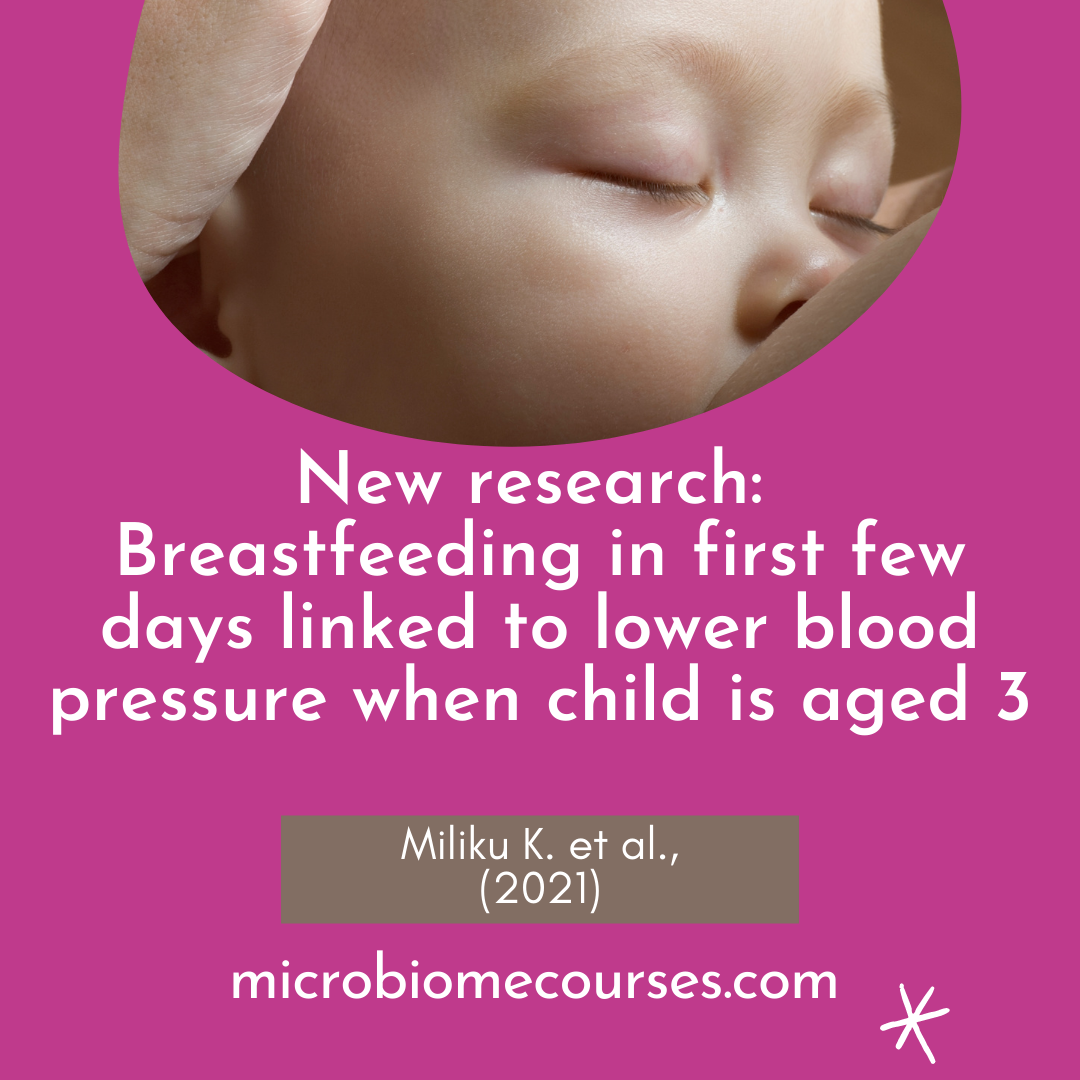 Wow. This new study shows why every drop of colostrum really does count.
As you know, early breast milk contains important immune, growth and tissue repair components. These are crucial to building a child's immune system.
Now new research finds that babies who receive even a relatively small amount of colostrum in the first few days have lower blood pressure at age three, regardless of how long or if they were exclusively breastfed.
These differences in blood pressure may mean improved heart health as adults.
About the study:

The new research by Miliku K. et al., (2021) has just been published in the Journal of the American Heart Association, an open access journal of the American Heart Association.
"To our knowledge, this is the first study to evaluate the association of breastfeeding in the first days of life and blood pressure in early childhood," said lead study author Kozeta Miliku, M.D., Ph.D., clinical science officer of the CHILD Cohort Study and post-doctoral fellow in medicine at McMaster University in Hamilton, Ontario, Canada.

The senior author of the study is Dr Meghan Azad, a Canada Research Chair in Developmental Origins of Chronic Disease at the University of Manitoba and Deputy Director of CHILD.

***

An explanation of the study:

Dr Miliku and colleagues looked at infant feeding information collected from hospital records and caregiver questionnaires for nearly 2,400 children - all part of the Canadian CHILD Cohort Study.

2% of babies were not breastfed at all.
98% were breastfed to some extent, with 4% receiving "early limited breastfeeding" - so some breast milk during the hospital stay.
Researchers split the data into three groups
1. None = No initiation of breastfeeding at all.
2. Early limited breastfeeding = Breastfeeding limited to the hospital stay
3. Sustained = Breastfeeding initiated and continued beyond hospital stay.
The researchers then compared this feeding information with a child's blood pressure at aged 3 years old.
The key findings:
Babies who were breastfed, even for a few days, had lower blood pressure at 3 years of age than children who had never been breastfed.
The children who were breastfed for any duration:
Had lower blood pressure measures (average of 99/58 mm Hg).
This is regardless of how long they were breastfed, or if they received other complementary nutrition and foods.
The children who were never breastfed:
Had higher blood pressure measures (average 103/60 mm Hg)
This is regardless of their own body mass index at age 3, or their mother's social, health or lifestyle factors
Researchers suggest these differences in blood pressure may translate into a lower risk for cardiovascular disease in adulthood.
The conclusion:
According to senior author, Dr Meghan Azad, "Our study suggests that for cardiovascular outcomes such as blood pressure, even a brief period of breastfeeding is beneficial. This points to colostrum as a key factor in shaping developmental processes during the newborn period"
My take-home message:
This study shows the need for more dedicated one-to-one support to help all mothers (and lactating parents) to initiate and establish breastfeeding. This needs to be a priority for all maternity health systems.

The importance of this is beautifully articulated by Dr Azad.

"It's clear that 'every drop counts,' especially in the critical first few days of life."
What do you think?

***
Article & Science reference

Child Study article: https://childstudy.ca/2021/07/21/colostrum-blood-p...
News release: https://www.eurekalert.org/news-releases/800122
Science reference:
Kozeta Miliku, Theo J. Moraes, Allan B. Becker, Piushkumar J. Mandhane, Malcolm R. Sears, Stuart E. Turvey, Padmaja Subbarao, Meghan B. Azad. Breastfeeding in the First Days of Life Is Associated With Lower Blood Pressure at 3 Years of Age. Journal of the American Heart Association, 2021; DOI: 10.1161/JAHA.120.019067

***
Social media:
I would love to hear your views on our social media channels.
FACEBOOK (please join us!): https://www.facebook.com/groups/473121803401844/
INSTAGRAM (please show some love!): https://www.instagram.com/microbiomecourses/
PINTEREST (please save the pin!): https://www.pinterest.co.uk/MicrobiomeCourses/

LINKEDIN (please connect with me): https://www.linkedin.com/in/toniharman/
***
Want to know more?
Take our new FREE mini-course on the infant microbiome.
Learn the science in just 30 minutes!

Immediate access and go-at-your-own pace.
Learn from 6 professors about why vaginal birth and breast milk are so critical to a child's long-term health.
Link to enroll: >>> https://microbirth.teachable.com/p/taster/
***