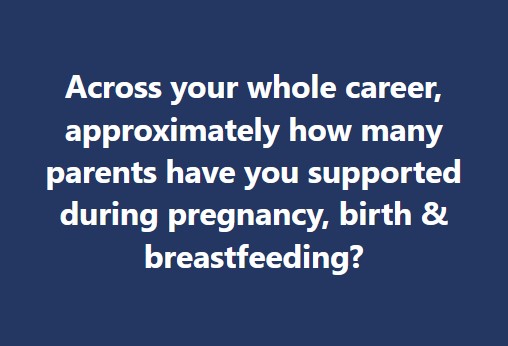 ***

36,024,000 parents.
That's a VERY rough estimate of the number of parents supported during pregnancy, birth and breastfeeding by everyone enrolled in our school, Microbiome Courses.
How do I know this?
Because every day I pose a question to the 4,700+ members of our private Facebook group (please join us).
The question is usually something related to pregnancy, birth or breastfeeding.
There is so much wisdom and experience in the group, I learn so much every day!
This week I asked the group approximately how many parents they had supported during pregnancy, birth and breastfeeding over their whole career?
The responses were quite astounding. Here are just a few.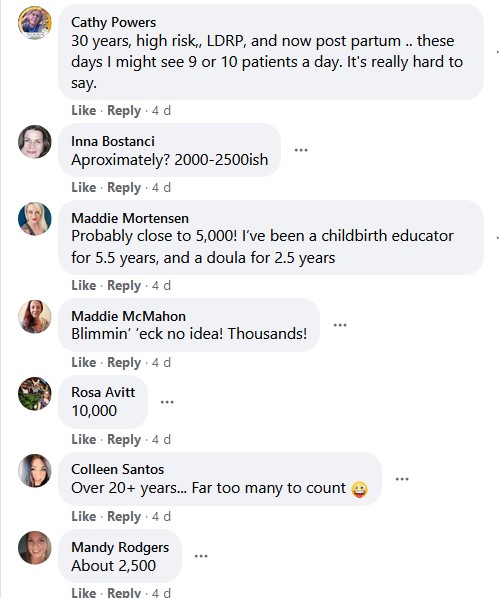 And then there is Mary: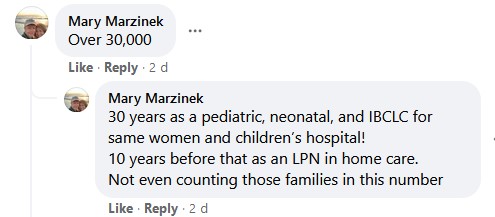 Think of that – supporting over 30,000 parents over 30 years. Wow.
>>>> FACEBOOK (please join us!): https://www.facebook.com/groups/473121803401844/

The power of YOU!
As a very rough average, each person who commented had supported over 1,000 parents during pregnancy, birth & breastfeeding.
As of this morning, there are currently 36,024 enrolled students in our School.
What if....
All 36,024 people enrolled in our School explained to parents what they can do to set up their child's immune system in the best possible way, even starting before birth.
What if....
All parents knew the importance of vaginal birth (when possible), immediate skin-to-skin and full support of exclusive breastfeeding for a child's possible lifelong health.
That's an influence of 36,024 x 1,000 = 36,024,000 parents.
And that's just the start....
I definitely think that if we can communicate the science to parents really simply, this can make a HUGE difference to the health of the next generation.
Next steps
I realise there might be a bit of a knowledge gap.
Many birth/breastfeeding professionals can be reluctant to explain to parents about the infant microbiome because they don't feel confident in the science themselves.
Perhaps they don't feel they are up-to-date with the latest science.
Perhaps they don't feel confident answering parent questions.
Sure, they can take our courses, but they still want more.
So, to meet this need, I am planning on running some short training sessions on specific areas of the infant microbiome.
These training sessions would feature video interviews with top professors.
To help me plan these training sessions, I would love to know what YOU would want to learn about.
What would help you feel more confident teaching the science to the parents you support?
To help me – please fill in this quick 3 min survey.

The survey is provided at the end of this blog-post, or click this link:

>>> https://forms.gle/XzVBfYZXMnhVZmW1A

Thanks so much!

Toni

Toni Harman, Founder, Microbiome Courses

***
Want to know more?
Take our FREE mini-course on the infant microbiome.
Immediate access and go-at-your-own pace.
Learn from 6 professors about why vaginal birth and breast milk are so critical to a child's long-term health.
Link to enroll: >>> https://microbirth.teachable.com/p/taster/
***