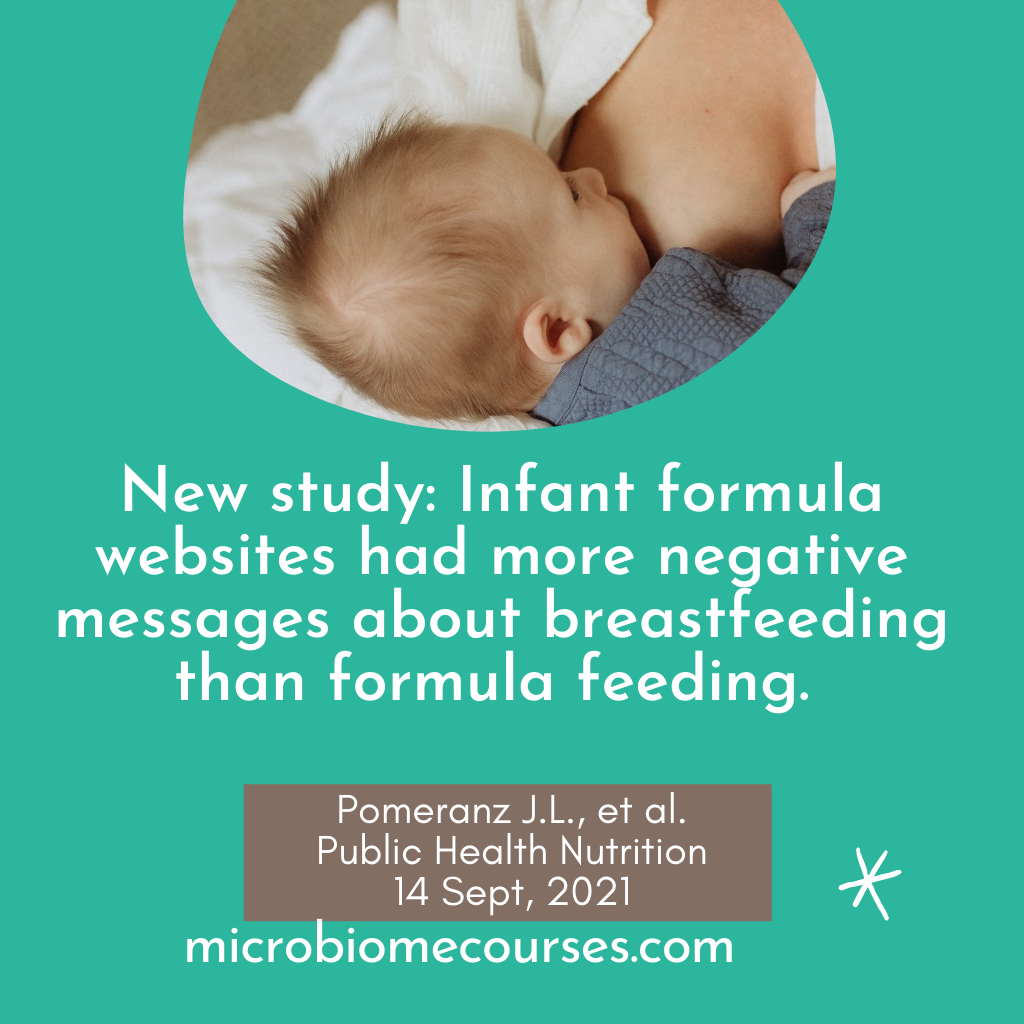 ***
Perhaps not that surprising.
QUICK SUMMARY: A new study finds direct-to-consumer messages on infant formula websites overtly discourage breastfeeding.

The websites have more negative messages about breastfeeding compared to formula feeding.

***

The new study by Pomeranz et al. (2021) was published in the journal Public Health Nutrition.

It was the first study to compare information and portrayals of breastfeeding vs formula feeding found on infant formula company websites. These were direct-to-consumer messages for US consumers.

According to the study's lead author, Jennifer Pomeranz, assistant professor of public health policy and management at NYU School of Global Public Health, as quoted from the NYU press release:

"Many factors influence parents' decision to breastfeed or use formula, including breastfeeding support and work schedules. But we also know that marketing and advertising play a critical role"

***

The study:

The researchers looked at the websites of three major formula brands covering 98 percent of the U.S. market (Similac, Enfamil and Gerber), plus two organic brands (Earth's Best and Happy Baby.)
The researchers collected the data in 2019–2020.
545 screenshots were captured during the data collection.

An additional 287 screenshots were collected through a second data collection.

***

The results:

In general, the website content contained more messages about breastfeeding/breastmilk.....but
40% of the website content focused on the challenges of breastfeeding/breast milk, for example, sore nipples, low supply of breast milk.
44% of the website content focused on the benefits of formula, for example, statements that suggest infant formula provides brain, neural and gastrointestinal benefits
26% of the website content focused on the benefits of breastfeeding or breast milk.
Twice as many images compared infant formula more favourably to breast milk, than as superior to other brands.
Some companies showed images indicating the apparent ease of using infant formula, compared to the implied difficulty of breastfeeding.
According to the study's lead author, Jennifer Pomeranz, as quoted from the NYU press release:

"Infant formula manufacturers' repeated communication about breastfeeding problems such as reduced breast milk supply or sore nipples, coupled with images of women holding their breasts to breastfeed, implies that breastfeeding is hard, painful work. These recurring messages may ultimately discourage breastfeeding."
***

Marketing tactics
The marketing tactics used by infant formula companies also came under scrutiny in the study, especially the use of discounts, coupons, contact information for sales representatives plus the claims of the health benefits of infant formula over breast milk.
To quote from Pomerantz from the NYU press release:

"These marketing practices directed towards U.S. consumers would be legally suspect in other countries, many of which follow W.H.O. recommendations and prohibit direct-to-consumer marketing of infant formula." .
In summary, to quote from the abstract:

"Substantial messaging on breast milk substitute manufacturer websites encouraged infant formula feeding and discouraged breast-feeding. Health professionals should discourage their patients from visiting these websites and the US government should regulate misleading claims. Companies should refrain from providing breast-feeding advice and align their US marketing with the International Code of Marketing of Breast-milk Substitutes."

***

Article and reference:

NYU press release: https://www.nyu.edu/about/news-publications/news/2...

Science reference: Pomeranz, J., Chu, X., Groza, O., Cohodes, M., & Harris, J. (2021). Breastmilk or infant formula? Content analysis of infant feeding advice on breastmilk substitute manufacturer websites. Public Health Nutrition, 1-9. doi:10.1017/S1368980021003451 https://www.cambridge.org/core/journals/public-hea...

***
Want to know why this really matters?

Take our full-length Breast Milk and the Infant Microbiome course.

Learn from 7 lactation scientists exactly WHY exclusive breastfeeding is so important for the optimal development of the infant immune system.

Approved for 17 CPD HOURS / 17 CONTACT HOURS & 17 L-CERPs (IBLCE)

(Available on this link for half-price) >>> https://microbirth.teachable.com/p/breastmilk12/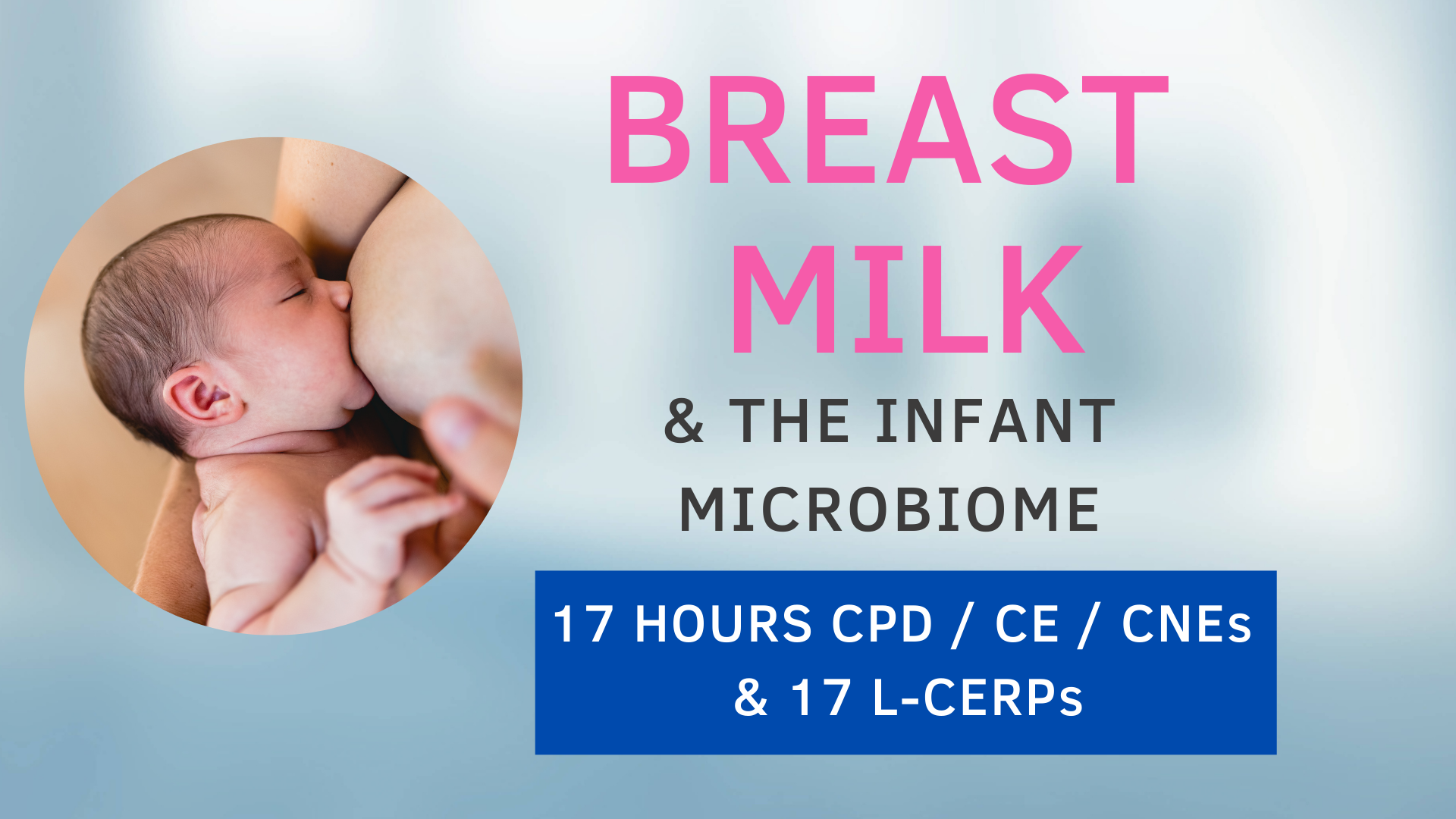 ***

Want to know more about the infant microbiome?
Take our FREE mini-course on the infant microbiome.
Immediate access and go-at-your-own pace.
Learn from 6 professors about why vaginal birth and breast milk are so critical to a child's long-term health.
Link to enroll: >>> https://microbirth.teachable.com/p/taster/
***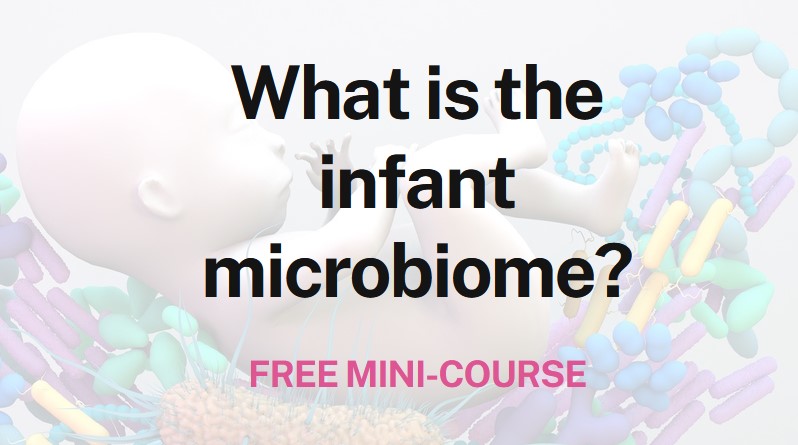 Social media:
I would love to hear your views on our social media channels.
FACEBOOK (please join us!): https://www.facebook.com/groups/473121803401844/
INSTAGRAM (please show some love!): https://www.instagram.com/microbiomecourses/
PINTEREST (please save the pin!): https://www.pinterest.co.uk/MicrobiomeCourses/

LINKEDIN (please connect with me): https://www.linkedin.com/in/toniharman/
Contact Us

You can contact us via Microbirth website: https://microbirth.com/contact-us/

You can reach our school home page via any of these links:
Microbiome Courses: microbiomecourses.com

Microbiome Academy: microbiomeacademy.com

Microbirth School: https://microbirth.teachable.com

***
Terms of Use: All content is protected by copyright. You agree that you will not modify, copy, reproduce, sell, or distribute any content in any manner or medium without express written permission from the copyright holders.

© Alto Films Ltd 2021. All rights reserved.