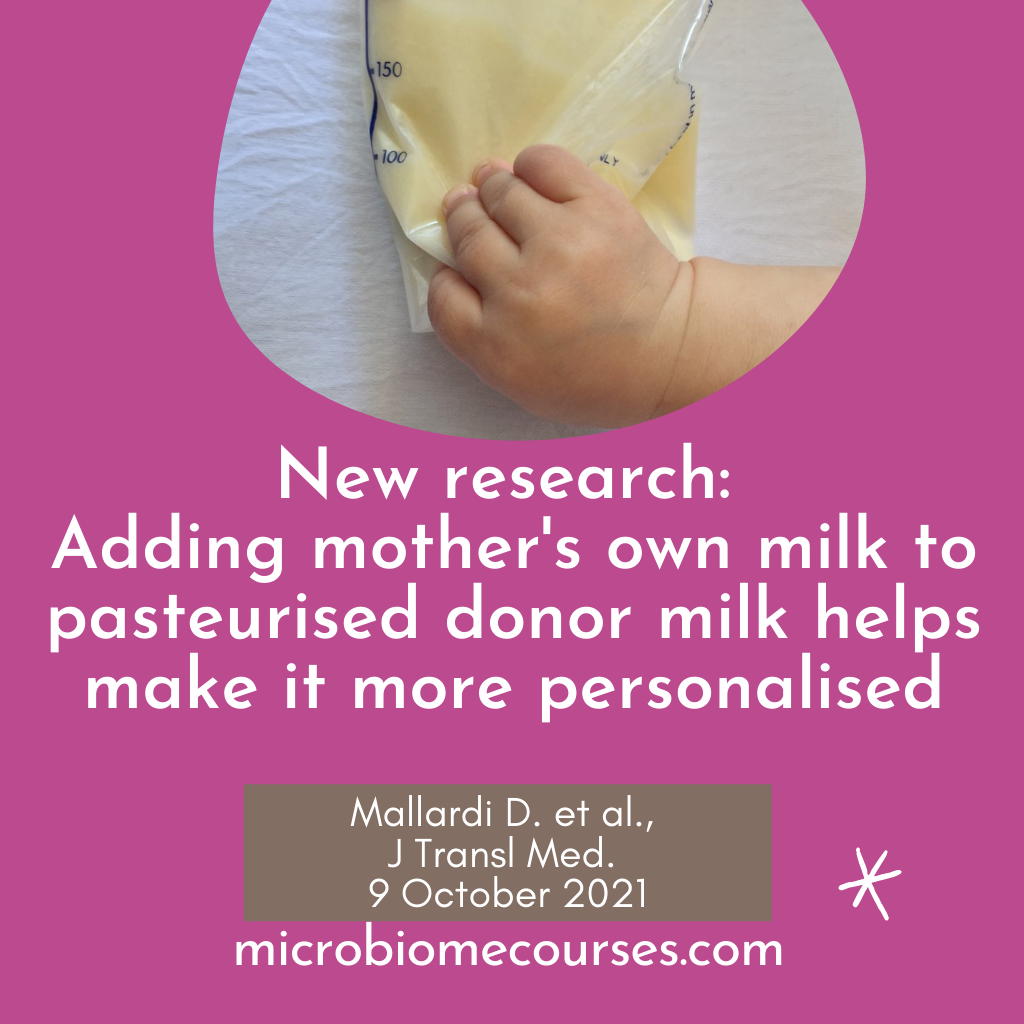 ***
SUMMARY: New study shows inoculating 10% volume of mother's own milk added to pasteurised donor milk can help restore the personalised milk microbiome. This could be especially helpful for preterm babies needing donor milk.

About personalised milk microbiome

Human milk contains many bioactive compounds and beneficial bacteria. The beneficial bacteria in breast milk are personalised to each mother/baby dyad.
The beneficial bacteria present in a mother's breast milk promote the establishment of a healthy microbiome in the baby's gut.

About donor milk

However, if a mother's own breast milk is not available, donor human milk collected from breastfeeding donor mothers can be the second-best option.

Pasteurised donor human milk (PDHM) is especially important for preterm babies, if a mother is unable to either breastfeed or express her milk.
To ensure the safety of the milk, donor milk from Human Milk Banks (HMBs) is pasteurised to inactivate any viral or bacterial agents present in the milk coming from the donor. In effect, pasteurisation affects the microbiological quality of donor milk.

But if the pasteurisation process inactivates the bacteria in the donor milk, is there a way to restore the mother's own personalised milk microbiome given to her own baby?
Short answer: New research suggests there could be a way!

Long answer: A new study by by Mallardi, D et al., published in J Transl Med (Oct 9, 2021) suggests inoculating and incubating pasteurised donor milk with 10% volume mother's milk can help restore the mother's personalised milk microbiome.

The Study:
In the in-vitro study, pasteurised donor human milk was inoculated with 10% volume using 10 preterm milk samples.
The 10 samples were then incubated at 37 °C for 0 hours, 2 hours (T1), 4 hours (T2)

The 10 samples were then analysed.
Results:
To quote from the study abstract: "After inoculation, metataxonomic analysis in IM samples showed that Proteobacteria remained the predominant phylum while Firmicutes moved from 3% at T1 to 9.4% at T2. Peptidomic profile of IM resembled that of PDHM, incubated for the same time, in terms of number and type of peptides."

What does that mean?
The research shows that inoculating pasteurised donor human milk with a bit of mother's own milk does help restore bacterial growth. It also helps to personalise the donor milk so that it looks more similar to mother's own milk.
As the bacterial components of a mother's own milk are personalised to her own infant, this could be a way to help restore the personalised milk microbiome for a baby needing donor milk.
Science reference:
Mallardi D, Tabasso C, Piemontese P, Morandi S, Silvetti T, Biscarini F, Cremonesi P, Castiglioni B, Pica V, Stuknyte M, De Noni I, Amato O, Liotto N, Mosca F, Roggero P. Inoculation of mother's own milk could personalize pasteurized donor human milk used for feeding preterm infants. J Transl Med. 2021 Oct 9;19(1):420. doi: 10.1186/s12967-021-03096-7. PMID: 34627277; PMCID: PMC8502300. https://translational-medicine.biomedcentral.com/a...

https://pubmed.ncbi.nlm.nih.gov/34627277/

***
***

Want to understand the science of human milk?

Take our Breast Milk and the Infant Microbiome course - featuring 7 top lactation scientists

(Available on this link for half-price) >>> https://microbirth.teachable.com/p/breastmilk12/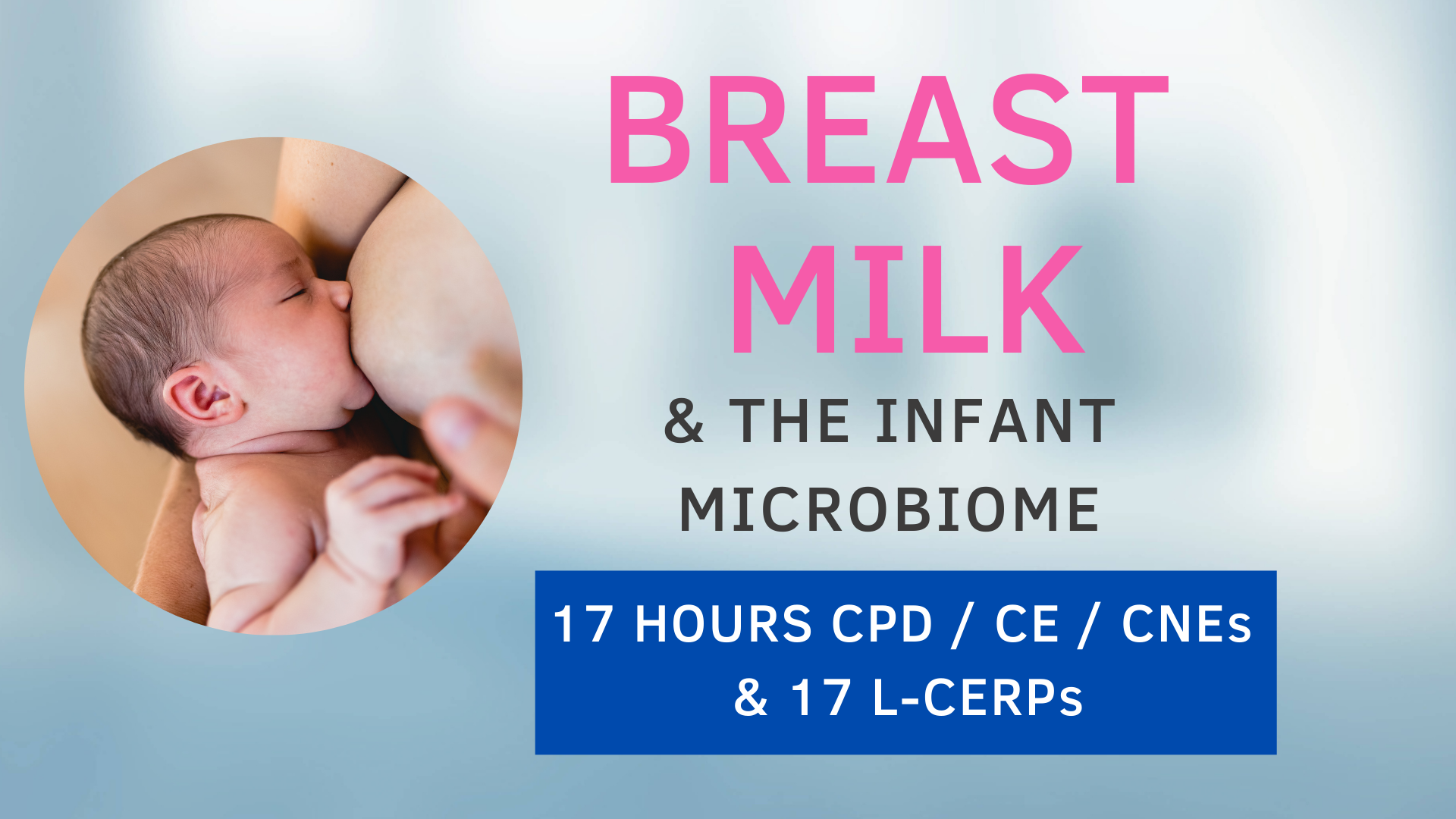 ***

Want a free course?
Take our FREE mini-course on the infant microbiome.
Immediate access and go-at-your-own pace.
Learn from 6 professors about why vaginal birth and breast milk are so critical to a child's long-term health.
Link to enroll: >>> https://microbirth.teachable.com/p/taster/
***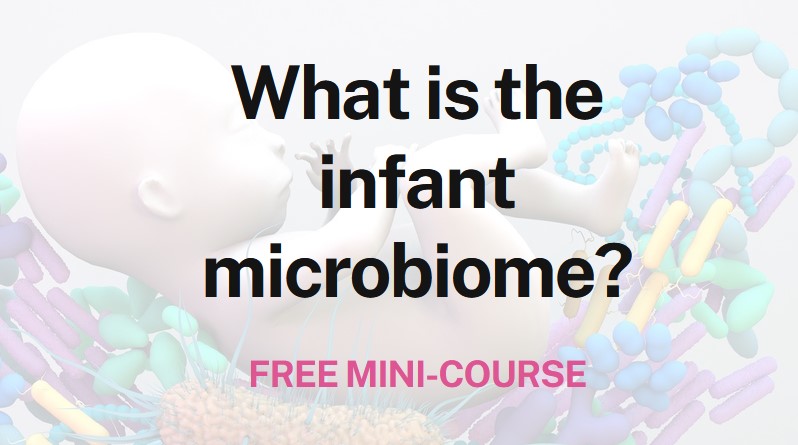 Social media:
I would love to hear your views on our social media channels.
FACEBOOK (please join us!): https://www.facebook.com/groups/473121803401844/
INSTAGRAM (please show some love!): https://www.instagram.com/microbiomecourses/
PINTEREST (please save the pin!): https://www.pinterest.co.uk/MicrobiomeCourses/

LINKEDIN (please connect with me): https://www.linkedin.com/in/toniharman/
Contact Us

You can contact us via Microbirth website: https://microbirth.com/contact-us/

You can reach our school home page via any of these links:
Microbiome Courses: microbiomecourses.com

Microbiome Academy: microbiomeacademy.com

Microbirth School: https://microbirth.teachable.com

***
Terms of Use: All content is protected by copyright. You agree that you will not modify, copy, reproduce, sell, or distribute any content in any manner or medium without express written permission from the copyright holders.

© Alto Films Ltd 2021. All rights reserved.