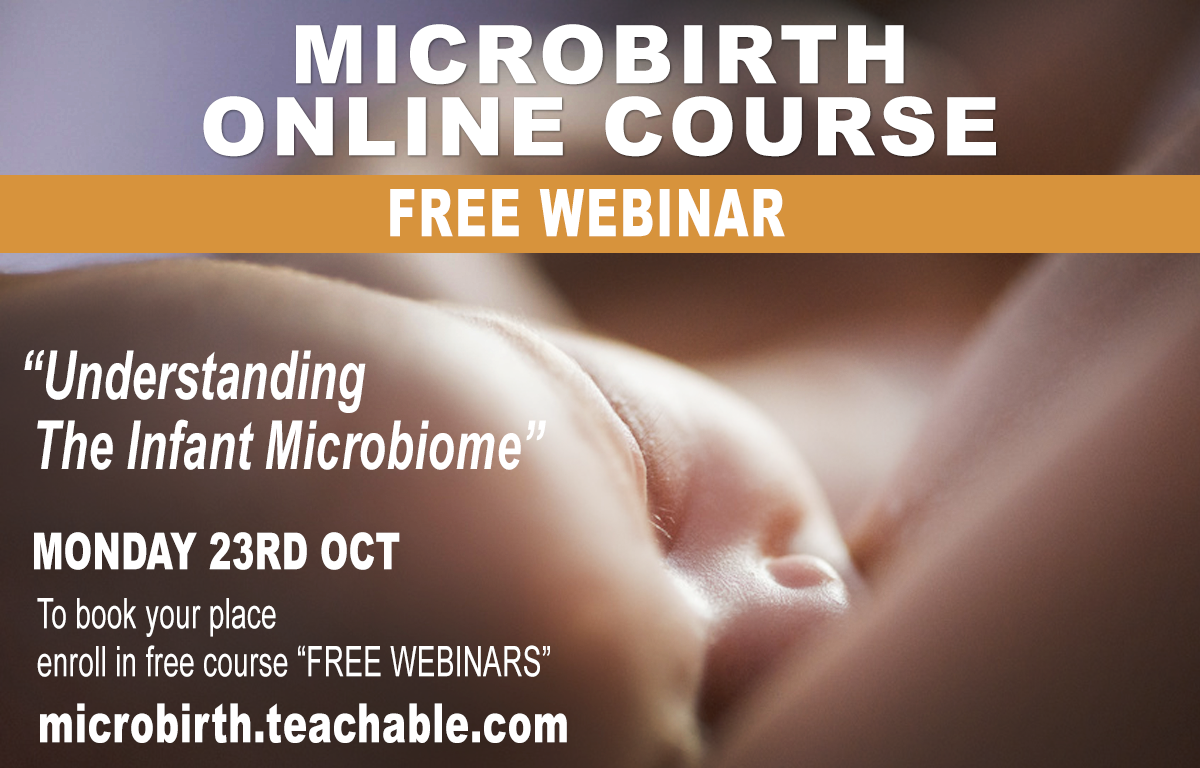 WEBINAR TITLE: "UNDERSTANDING THE INFANT MICROBIOME"

**Webinar now accredited for 1 CPD Hour by the Australian College of Midwives**

FREE 60 MIN ONLINE WEBINAR

Webinar Title: "Understanding The Infant Microbiome"

When: Mon 23rd October 2017

Pre-recorded webinar video will be available from 10am ET (New York)

Webinar Host: Toni Harman

Webinar Format: Presentation & Videos

Evidence-based visual presentations
Videos featuring world-leading professors from US, Canada, UK & Australia
Full set of downloadable handouts
Downloadable and printable Certificate of Completion (approved for 1 CPD Hour Australian College of Midwives)


Live Element: Live Q&A interactive discussion

Live Q&A discussion forum with webinar host, Toni Harman. This is your chance to interact direct with Toni!
23rd October - 7am PST Los Angeles
23rd October - 10am EST New York
23rd October - 3pm BST London
23rd October - Midnight AEST Sydney

Webinar Aimed At: All Healthcare Professionals

Including doctors, midwives, nurses, doulas, birth and prenatal educators, lactation consultants, breastfeeding counsellors, health visitors, maternity support workers, alternative health practitioners and all other health professionals

Webinar Recording: Available for 7 days

Webinar recording available until 23.59 (ET) on Monday 30th October 2017

Webinar Contents:

Introduction to the human microbiome (what it is and why it's so important)
Why birth is so important as the main seeding event for founding the infant microbiome
Why breastfeeding is so critical for feeding the bacteria acquired from the mother during the birth process
How this "seed and feed" process optimally trains the infant immune system
Healthy baby = healthy immune system = healthy infant microbiome!

To Sign Up To Webinar: Simply enroll in this free course

Click on button marked "Enroll In Course" at top of this page!

-------------------------------

PLEASE NOTE: to attend this free webinar, you have to be enrolled in the "FREE WEBINAR - 23rd October 2017" course within the MICROBIRTH SCHOOL. It is free to enroll in this course.

A recording of the webinar will be available for 7 days after the live webinar has ended. To watch the recording, you need to be enrolled in the "FREE WEBINAR - 23rd October 2017" course within the MICROBIRTH SCHOOL
A reminder email will be sent to all those enrolled in the "FREE WEBINAR - 23rd October 2017" course prior to the start of the webinar with a link to the webinar page.

1 CPD HOUR approved by the Australian College of Midwives is available with this webinar.
The full 9 hour MICROBIRTH ONLINE COURSE (9x 60 Mins) is accredited for the following continuing education credits:
0.9 CEUs (MEAC) / 9 CERPS (4 L-CERPs & 5 R-CERPS IBLCE) / 9 Contact Hours (ACNM) / 9 CPD Hours (ACM)
The full course is now available for 1/3 of the usual price (only until 30th October 2017)